FDNY picks Lion Apparel's MT94 CBRN suit for hazmat duty
Largest US fire department chooses suit for mobility and flexibility
---
By Scott M. Bruner
Product Editor
FDNY is upgrading its response protocol to improve its ability to respond to chemical, biological and WMD incidents by enhancing its chemical protective clothing program.
The department has selected Lion Apparel's MT94 (Multi-Threat) CBRN suit, which has been particularly designed for mobility in a Class 2 suit, with a focus on allowing a natural freedom of movement.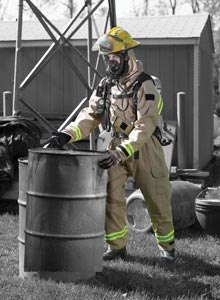 FDNY's revamped program provides its hazmat response teams with a more functional alternative than wearing traditional Level A suits to respond to such incidents. Lion's MT94 is a one-piece ensemble designed to protect against some of the world's deadliest chemical and biological threats.
FDNY's change in direction for CBRN suits allows their hazmat teams the ability to provide rescue and decontamination response without needing to wear traditional Level A suits.
The MT94 is a one-piece, rearentry suit particular designed to meet vapor, liquid and FR protection, without sacrificing mobility, according to Lion Apparel. It features a Gore CHEMPAK barrier fabric laminate on top of a Nomex outer textile for protection and confidence in facing unknown threats. Lion Apparel boasts that the MT94 offers the highest level of protection for a Class 2 suit, and can block out a high amount of CBRN agents in any hot zone.
The MT94 comes in several models, for fire and rescue units as well as for law enforcement and military units. It is certified for use with Gore G9492 gloves and OnGuard HAZMAX® 87012 Boots. The suit can be reused for a number of wears and washings, unless it has been contaminated. It is certified to NPFA 1994, Class 2 and NFPA 1992.
Lion Apparel Inc. is a 111-year-old, family owned global company based in Dayton, Ohio. Lion serves the uniform and personal protective equipment (PPE) requirements of police and fire departments. For more information, visit www.lionapparel.com/cbrn.shtml or e-mail CBRN@lionapparel.com.