Pa. community mourns fire chief who died from cardiac arrest
Delmont Fire Chief Rich Balik, 47, died unexpectedly on May 23 after being found unresponsive at home
---
Renatta Signorini
Tribune-Review, Greensburg, Pa.
DELMONT, Pa. — Rick Miller remembers former classmate Rich Balik being taken with the fire service as early as sixth grade while they were students at Nicely Elementary in Greensburg.
Decades later, Balik asked Miller to join Delmont Fire Department.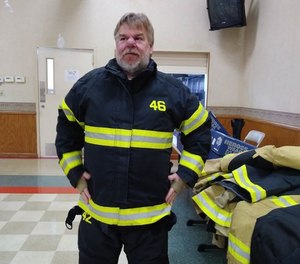 "He was my friend, he's just always there helping the younger firefighters out," Miller said.
Balik, 47, a longtime firefighter with several departments around Westmoreland County, died unexpectedly Saturday, May 23, 2020, friends and officials said. He was a 1991 Greensburg Salem High School graduate.
Delmont Councilman Bill Marx said Balik was found unresponsive at home and apparently died of cardiac arrest on the way to a hospital.
"The chief was well-known and well-liked and a lot of the members of the fire department and a lot members of the community, we're just shocked," he said.
It appears Balik officially got started as a firefighter soon after high school — Balik said he had 12 years under his belt in 2003, according to Tribune-Review archives.
In the following years, he was involved with fire departments in New Alexandria and Slickville, as well as a county water rescue team.
Balik took over the Delmont department in 2017 after past officials were arrested on theft allegations.
He was great at getting others interested in the fire service, said Jamie Bartley, president of the Westmoreland County Firemens Association. Balik would often bring a few others with him to the association's regular meetings.
"He was the type of guy that would come and help," said Bartley, a South Greensburg firefighter and borough councilman.
That help has been instrumental recently as Delmont Fire Department and many others in the region are facing tough times as their ability to fundraise has dwindled with restrictions on social gatherings during the coronavirus pandemic. He told a reporter earlier this month that he was in the middle of planning a flea market fundraiser to help offset $25,000 in losses from events the department had to cancel in the last couple months. Balik did a fundraiser on his Facebook page Friday.
That level of effort was pretty typical of Balik, Bartley said. He was heavily involved in both the firefighting and fundraising sides of the department.
"He was heartfelt," Bartley said. "The county firemens association will miss him deeply. He was an asset to the association."
Balik, whose nickname was "Flipper," was involved in putting on a Mother's Day parade through the borough to honor mothers. Delmont Borough Police Chief T.J. Klobucar said Balik was an asset to the entire community.
"He's going to be truly missed, he was dedicated," Klobucar said. "He's very dedicated to the fire department and for helping people in town. When he wasn't working, he was with the fire department."
Marx echoed those sentiments.
"On behalf of the Delmont Borough Council and community, we offer our deepest condolences to the Delmont Volunteer Fire Department and to the family of Chief Rich Balik," he said. "Rest in peace Flipper."
Members at the department Sunday declined to comment. Family members could not be reached.
Friends said they will remember Balik for his community contributions and helpful attitude.
"He's a big-hearted guy," Miller said. "Little stature, big heart."
Funeral arrangements have not been released.
———
©2020 Tribune-Review (Greensburg, Pa.)
McClatchy-Tribune News Service