Photo: Firefighters rescue dog that fell through ice
Firefighters were on scene within minutes and deployed an ice rescue sled; the dog was cold but unharmed
---
SUDBURY, Mass. — Firefighters rescued a dog from frigid waters Wednesday morning after he ventured out too far onto ice and fell through.
WWLP reported that a resident called 911 to report that she was walking with her dog when it ventured too far out and fell into the water, becoming stranded in the frigid temperatures, unable to get itself out.
Firefighters were on scene within minutes and deployed an ice rescue sled. Crews quickly located the dog and ventured into the water.
The dog, a golden retriever named Satchel, was very cooperative.
Firefighters lifted the dog out of the water and into the ice rescue sled. Once on to the sled, Satchel ran to his owner back on dry land. The dog was cold, but otherwise unharmed.
Fire Chief William Miles praised the quick thinking and actions of the responding firefighters.
"Firefighters are life savers, but they never know what conditions they will be working under or what kind of resident they might be called upon to save," Chief Miles said. "Because of the preparedness and actions of our firefighters, a Sudbury family member was saved today."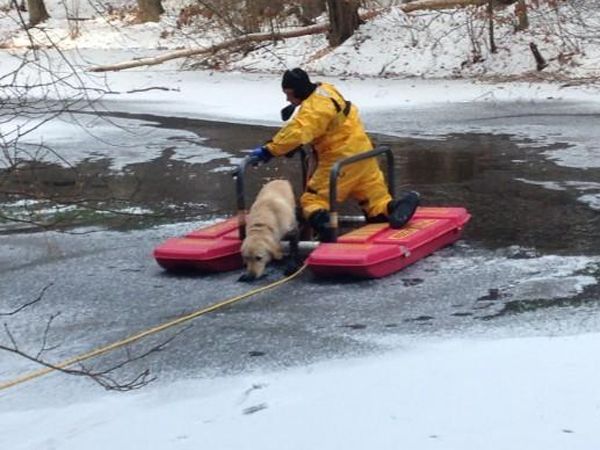 Photo courtesy Sudbury Fire Department