Ghost Ship: A tragedy rooted in deceit and missed opportunity
The negligence in the enforcement of safety codes betrayed the public trust
---
Dec. 2, 2021, marks the fifth anniversary of the devastating blaze that tore through an artist collective with living spaces in Oakland, California, killing 36 individuals trapped inside the cluttered, mazelike building.
The building was wildly unsafe for its tenants and visitors alike, having evaded inspections and foregoing even basic safety practices. And in the end, when fire ignited during a concert at the warehouse, flames moved so quickly that many of the individuals inside were unable to escape and ultimately died of smoke inhalation.
It was the deadliest fire in Oakland history and worst mass-casualty incident in the city since the 6.9 Loma Prieta earthquake that rocked the Bay Area in 1989.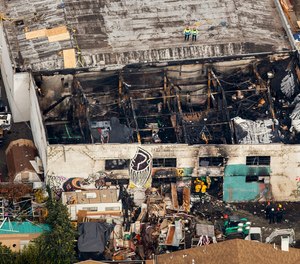 The fire sent shock waves through the community, with the city and fire department both thrust under the spotlight related to their responsibilities in the process of code enforcement and building inspections.
Building details and hazards
Built in 1930, the structure itself featured two stories of concrete block with a steel truss roof and a floor area of 9,880 square feet. By 2016, the former warehouse, located in the Fruitvale section of Oakland, had been essentially repurposed as a living and entertainment space dubbed the "Ghost Ship."
The building was owned by Chor Ng, who leased it to Derick Almena, who managed the property as an artist collective and residence for his family. At various times, 20 to 30 artists held sub-leases, in violation of the lease agreement with Ng and the city's zoning regulations.
Almena made no application to the city of Oakland for his collective and living space. No change of use permit, no residential dwelling permit, no construction permit, no occupancy permit, no electrical permit, no entertainment permit. No permits whatsoever.
Plans review, inspections, permitting and licensing are the checks and balances essential to successful building safety regulation. But public records show that city building inspectors had never been inside the converted warehouse.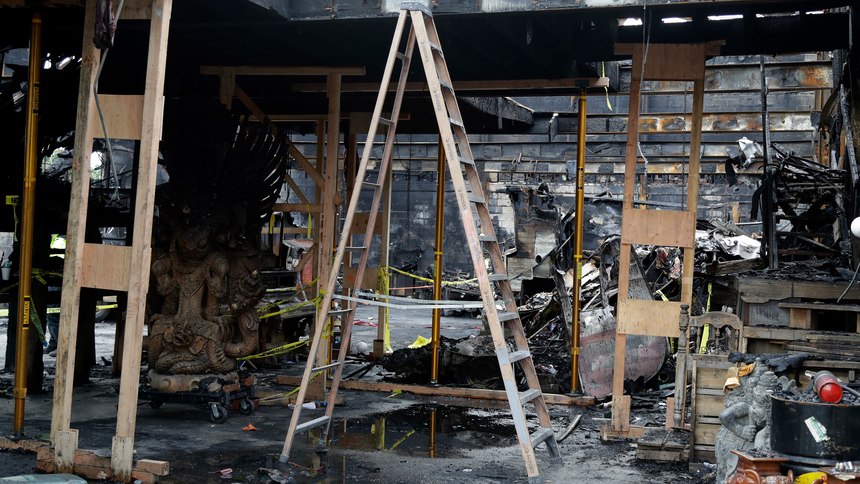 This Dec. 2, 2016 file photo shows the inside of the charred warehouse called the Ghost Ship in Oakland, Calif. (AP Photo/Marcio Jose Sanchez,File)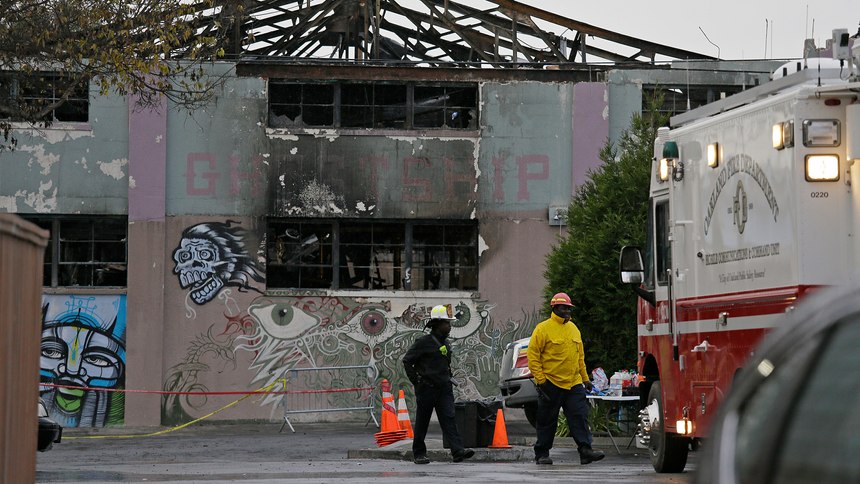 In this Dec. 7, 2016, file photo, Oakland fire officials walk past the remains of the Ghost Ship warehouse damaged from a deadly fire in Oakland, Calif.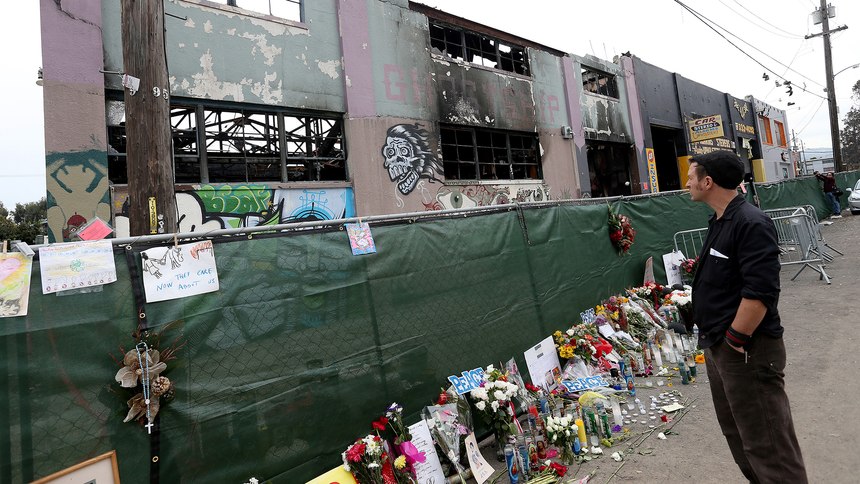 A mourner pays his respects as Investigators carry on their work at the Ghost Ship warehouse in Oakland, Calif., on December 13, 2016. (Jane Tyska/Bay Area News Group/TNS)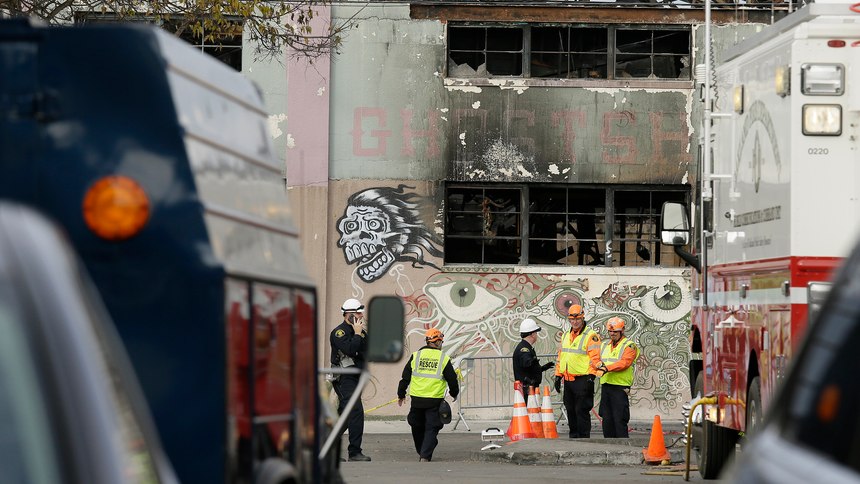 This Dec. 7, 2016 file photo members of the Alameda County Sheriff's Office stand outside the warehouse called the Ghost Ship the site of a fire, in Oakland, Calif. Oakland police visited the cluttered warehouse converted into an illegal residence dozens of times in the several years before it burned down, killing 36 people. (AP Photo/Eric Risberg)




Although zoned only for commercial use, Almena rented living spaces at the warehouse and held parties on the second floor. The first floor was a maze of old pianos, travel-trailers intended as sleeping pods, and was decorated with combustible materials to an extreme. Wood pallets were stacked to form steps for access to the second floor.
Electricity was distributed with extension cords, fed from a sub-panel located in an adjoining auto body shop. Access to the panel was through a hole in the wall. The power frequently went out.
How a building is used determines its occupancy classification and the specific safety codes that apply. Use dictates construction type, building materials and fixed fire protection features. Changing the use of a building, for example when ownership changes, should trigger a review by building and fire code officials of the authority having jurisdiction (AHJ).
A building owner seeking a change of occupancy might be denied a permit due to local zoning regulations or the inability to bring a building into required compliance. Such a review depends upon the building owner acting responsibly.
Of course, code administrators sometimes face a lack of cooperation by building owners. There may also be a lack of communication between departments of government. An example of the latter might involve the building/zoning codes department and the fire marshal's office not sharing information.
When a building owner or property manager avoids complying with building and fire codes, there must be a system to discover, identify and correct violations. Code enforcers do this by conducting regular inspections and requiring the filing of official applications for plans review, zoning, occupancy changes and/or construction.
When regular inspections are neglected, when information is not shared or when building owners avoid following the rules, serious problems eventually surface. Such was the case with the Ghost Ship. 
Some of the artists living there recognized the inherent safety hazards, and at least two had their own fire extinguishers. Critical life safety features – means of egress and emergency lighting – were basically nonexistent. A single battery-operated smoke detector was found in the debris.
Negligence leads to tragedy
Looking back, what stands out to me about Almena is his lack of responsibility and his deceit. This fire and the resulting tragedy could have been prevented, and yet, he showed no real remorse for his actions.
Oakland firefighters did their duty fighting the Ghost Ship fire. That is in stark contrast to the city's administration and enforcement of building and fire codes, which, in practice, was ineffectual, if not outright incompetent. The negligence in the enforcement of safety codes betrayed the public trust.
The exact cause of the fire was never determined, but it is thought to be electrical in nature. The city of Oakland eventually settled a civil lawsuit with victims for $33 million. The electric company, Pacific Gas & Electric, also settled out of court.
On Jan. 22, 2021, Almena pleaded guilty to 36 charges of involuntary manslaughter as part of a second plea deal under which he would serve between 9 and 12 years in prison.
City of Oakland zoning regulations prohibited residential and entertainment uses in the industrial zone where the fire building was located. If a zoning variance was even possible for the intended uses, the warehouse would have required major work to bring it into compliance. 
At the least, applying for a variance would have required making application to the city of Oakland. That act would have brought the building and Almena to the attention of city building and fire inspectors and any other similar uses within the city.