10 Steps for Ensuring Successful Health and Wellness Programs
---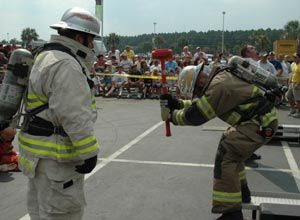 Photo Mike Medeiros
Members of Horry County, S.C., Fire Rescue take part in the Firefighter Combat Challenge.
We see it every day — fire and EMS departments starting up wellness programs to help their members both mitigate injuries and prevent loss of life. But the one thing that continues to evade the progress of these programs is the approach to them and their continued development.
Our job as firefighters has not changed. We still have to deal with stressors that effect our everyday health. The only way departments can keep members safe is with a good health and wellness program that focuses on stressors such as:
Overwhelming, mentally challenging calls (death of a child, multiple casualty incidents, etc.)
Over-heated environments
Uncertainty of calls
Regular house fires
Being instantly awoken in the middle of the night for a call
Large patients
Unhealthy/large meals both on and off duty
As with implementing any procedure, there are some common hurdles that administrations will face in creating a health and wellness initiative:

Cost
Issues can include a lack of planning by departments in making arrangements for any incurred costs with equipment (both purchase and maintenance), manpower, instructional guidance and other health programs not offered at the immediate facilities.
Injuries
Picking a fitness or agility program with little to no hands-on instructions can create an unsafe environment.
Timeline
A lot of departments jump into a health and wellness initiative with unrealistic timelines for existing personnel. This tends to create a hostile workforce. There's also the threat of injuries —possibly even lawsuits resulting from them.
Goal setting
Administrations tend to set the goals for their members without getting a consensus of any real problems these members may be facing.
Participation
Some departments find that members will do what they say if approached with scare tactics. Other departments find that the program does well at the beginning but soon falls short of any real progress.

These are just some of the main problems that can plague health and wellness program at the beginning. You will get some departments having success in the first few months and as much a year or two, but most tend to drop off after some time.
Here are some of the steps that you can take to help keep a program alive and thriving with success:
1. Before you start a program, have a survey done of all your members with simple questions they can easily answer. Ask for their input anonymously. Questions can include: What are your likes and dislikes about health & fitness? What are some of your personal goals pertaining to your own health? What would you like the department to do to help you achieve those goals?
2. Have every member evaluated on both health and fitness levels. This can be done with a doctor's office, personal physicians and/or fitness professionals.
3. After obtaining information in the first two steps, use it to help frame a program that will suit your members' needs.
4. Once you have a program in mind, come up with realistic goals and timelines for each member. A complete department goal can work just as well, as long as you shape it around the needs of both your strongest and weakest links.
5. Every quarter, make arrangements to have station officers send in fitness achievements on all his/her members. This will keep you up to date on developments and let your people know you are aware that they are making efforts to improve.
6. Annual fitness testing needs to be done using conventional fitness tests or department-made Job-Related Testing. Using job-related functions is a great way to test both members' physical ability as well as their on the job performance.

7. Have an Employee Assistance Program in place for both personnel problems and crisis intervention. This ensures the health and fitness program is well rounded.

8. Annual medical physicals are a must. Most already have this in place.

9. Send out dietary suggestions and recipes to all your members so that they have the tools to make it work. Saturate them with healthy information.

10. A volunteer or paid fitness committee is good way to ensure that your members have some say in what programs, equipment and problems that they would like to see corrected.
A good reference to a new or old program is the mentality most have with New Year's resolutions. Everyone means to and really wants to accomplish their goals set during this time, but as they get into January most tend to fall off the wagon and say to themselves, "Oh well, I'll do better next year."
But we in the fire and EMS service do not have that luxury as the job is so demanding and can hurt or even kill us if we are not proactive to the stressors found in our working lives.