15 tricks to stay warm fighting winter fires
Cold weather is brutal on firefighting equipment and even more so on firefighters
---
This article, originally published on Jan. 14, 2014, has been updated with new information.
Many firefighters will tell you that they prefer to fight fire on a hot summer day rather than in the dead of winter. Temperatures near or below zero are brutal on equipment and body.
We asked readers how they stay warm on scene. Here are some of the more interesting – and funny – responses. What tricks do you use to keep warm on the fireground during winter?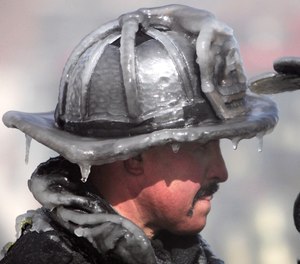 1. "As an engineer, I am always right next to the pump panel and get some warmth from the engine. Of course, the other side of the coin is the heat of the summer. The engineer doesn't usually get rehab until the event is over. But, still, it's not as bad as making runs. This comes with age. My days of making runs are over, paid my dues." — Mark Rossnagel
2. "I always carry extra wool socks in my bunker pants, and spare gloves, but always avoided anything cotton. You sweat, and it's absorbed, then you're colder, unless it's moisture-wicking." — Steve Warren 
3. "Keep moving, never take your jacket off; it will freeze, and you will, also." — David Reynolds
4. "Boot inserts, cotton sweater and double hood." — Jared Tessier
5. "I kept a bag of extras handy – dry mitts, wool liners, balaclava, warm socks and hand warmer packs, and left them in the apparatus. A sweatshirt was handy, too, if it was a drown out or long-duration incident." — Ian Campbell
6. "Cold weather bag is a must, have dry socks, T-shirt, sweatshirt, skull cap, gloves, a towel to dry off, heat packs for your gloves and boots and a plastic bag to put the wet stuff in. I can remember being out at fires for 10 straight hours in the cold, that bag saved me plenty if times." — Carlton R. Crawley
7. "Headlights are good for warming hands." — John Klem
8. "A wise firefighter told me to find a hole in the ground, twist an ankle in it, and ride the first medic to the hospital. Joking." — Randy Anderson
9. "In Wisconsin, we get a layer of ice built up on us; it's windproof, too. Just don't thaw out until you're ready to head back to the station." — Steve Rist
10. "I keep pocket warmers in my gear rack." — Elijah Gonzalez Gray
11. "Make an arrangement for a school bus to be available. They're not high on creature comforts but warm and out of the weather." — Bubba TwoBugles
12. "We have a Keurig coffee machine hooked up on the ladder and each has our own mug onboard labeled can man, irons, roof man, etc." Jeffrey Bingaman
13. "Wear rubber exam gloves under fire gloves. And, yes, put bread bags on before boots; feet will stay dry and warm." — Melody Kinney-Hollenbach
14. "Don't stand at the exhaust to keep warm. Extraction systems are provided at the station to keep these fumes out of your lungs." — Kevin Cormican
15. "I had an old wetsuit top with half sleeves that was a few sizes too large for me, so it fit loose and was easy to get into quickly. I used it as one of my bottom layers and it kept my core temperature where it needed to be." — Gary Schlotterbeck