Are you volunteering for cancer?
Volunteer firefighters should consider that service can have permanent life effects
---
Editor's Note: The National Volunteer Fire Council's National Firefighter Health Week runs August 16-20. It's an annual week-long initiative held each August to educate the fire and emergency services community and the public about a variety of health and wellness issues that affect first responders. Thurday's topic of focus is cancer. In addition to Cindy Ell's article below, be sure to check out tips from the NVFC on preventing cancer here as well as its special Health Week page.
By Cindy Ell
Fire Fighter Cancer Foundation founder/president
The volunteer fire service is comprised of men and women who began their participation as early as in their teens and some have continued in excess of 60 years. Fire and emergency responses and training have changed over the decades, as have the levels of chronic stress, chemical exposures, training methods, and protective equipment.
While the U.S. Fire Administration currently maintains records of deaths recognized as in the line of duty, cancer deaths among volunteer firefighters and emergency medical personnel continue to go undocumented.

Studies are currently under way to explore the link of carcinogens to fire service exposures. While we wait for scientific data to be further assessed, the Fire Fighter Cancer Foundation suggests that record keeping begin now for volunteer firefighters.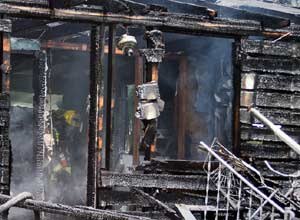 Through participation of state fire associations and member departments, database creation should be considered. Member retention programs could include education and awareness about municipality worker's compensation, and state presumptions for occupational illness.

Volunteer firefighters should consider that service can have permanent life effects. This is not meant to steer citizens from giving to their communities, but rather to perform their duties with an awareness that promotes longevity and protection of their good health in the process.
As with any other dangerous vocation, personal pre-planning is important. Preparing for one's future with annual health screenings, maintaining a current will, accident or illness insurance, and participating in programs that would protect full-time employment should be considered. Fitness promotion, nutrition counseling, and lifestyle modification should also be incorporated into firehouse training.
Dr. Michael G. Hamrock, MD (Medical Examiner, Boston, Fire Department), states, "Firefighters need to be screened more early and often than the general public because of their higher risks for cancer. Every firefighter should obtain a thorough and confidential firefighter physical exam and undergo screening tests for prevention and early detection of these specific cancers annually."
These recommended comprehensive exams are outlined below and should be given to the primary care physician to follow closely:

                          Recommended Firefighter Physical Exam and Screening Tests
 
               Annual Exam                                               Annual Labs and Screening Tests
| | |
| --- | --- |
| | Comprehensive metabolic and chemistry panel |
| Respiratory rate, temperature | |
| | |
| Weight and body fat index | |
| | |
| Eye exam and hearing testing | Hemoglobin A1c (for diabetes monitoring) |
| | Fasting lipid profile and blood glucose |
| | Urinalysis and urine biomarkers |
| Abdominal and testicular exam | |
| | PSA (begin at age 40 for prostate cancer screening) |
| Fecal occult blood testing | Pulmonary function test every 3 years |
| Pelvic and Pap for females | Chest X-ray every 3 years |
| Vascular and neurological exams | Colonoscopy (begin age 40 and every 5 years) |
| | Exercise stress test (begin age 40 and every 3 years) |
| | Mammograms for females (begin age 35) |
Dr. Hamrock recently joined the Fire Fighter Cancer Foundation in an advisory capacity. The Foundation is a resource-based organization working to extinguish firefighter cancer with a global mission. It is the hope that through improved record-keeping, education, and awareness programs, cancer will be more aggressively studied and fire and emergency medical personnel will enjoy additional years of healthy service.

For more information, visit the FFCF website at  www.FFCancer.org. 
Cindy Ell is a retired firefighter/paramedic from Anne Arundel County, Maryland, and founder–president of the Fire Fighter Cancer Foundation.