Cancer: You're not alone
---
Editor's note:  FireRescue1 is supporting the inaugural National Firefighter Health Week with a range of articles and resources over the next five days. Organized by the NVFC, the initiative focuses on a different health issue relevant to all firefighters every day this week. Tuesday's spotlight falls on cancer, with studies showing firefighters are at greater risk of developing certain types of the disease. Full weekly coverage
By Jamie Thompson
FireRescue1 News Editor
Firefighter Cancer Support Network
The Survivors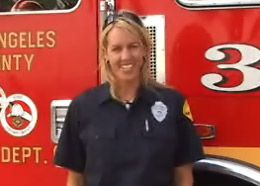 Firefighters speak of their experiences with cancer.
Full Video
It's often said that cancer can strike anyone. But when you're a firefighter, the chances of getting the disease rise beyond random selection.
Firefighters face up to twice the risk of developing certain types of cancer than any other worker, according to a University of Cincinnati study published last November.
The researchers said the findings suggest that the PPE used by firefighters, particularly in the past, did not protect them enough against cancer-causing toxins at fire scenes. 

Firefighters are exposed to many compounds designated as carcinogens, or cancer-causing agents such as benzene, soot, formaldehyde and chloroform. These substances can be inhaled or absorbed through the skin at firegrounds.

Firefighters develop several cancers more frequently than others, such as multiple myeloma, non-Hodgkins lymphoma, and cancer of the skin, brain, prostate, stomach, colon and testicles.
Paul Soteropoulos is among those who have battled the latter form of cancer. The firefighter-paramedic from Los Angeles County Fire Department was diagnosed just under five years ago.
What became apparent to him at the time was the lack of any kind of official support system in the firefighting community.
But with the help of a colleague who had also been diagnosed with cancer, he helped to set up the Firefighter Cancer Support Network. It was initially only aimed at members within the L.A. department, but has since expanded its network across the United States and even to Canada, Australia and South Korea.
The group offers information and a mentoring service to fire service members and their families in the event of cancer diagnosis.  
Soteropoulos, who has been in remission for three years now after undergoing invasive surgery, said such groups are particularly important for firefighters.
"We're used to staying within our own radius when we need things because we are such a unique group," he said. "We don't necessarily put our hand up and ask for help when we need it."|
Growing awareness of the fire service's heightened cancer risks has seen more firefighters take preventative measures in recent years, such as showering when returning from calls and wearing PPE even when only in the vicinity of a fire.
But many firefighters are still reticent when it comes to actually facing up to the fact that they may have cancer, according to Soteropoulos.
 
"I think firefighters are derelict in their duties when it comes to their own health," he said. "We are 'tough guys,' we don't need to go to the doctors or anything like that."
While there's no way for firefighters to completely avoid the on-the-job factors that can contribute to cancer, there are basic prevention and detection measures that can be taken to reduce the risks. These include:
• Scheduling annual doctor visits
• Eating a healthy diet and exercising regularly
• Finding ways to reduce stress
• Educating yourself about cancer and your risks
• Paying close attention to your body — and seeing a doctor if you notice any changes or anything unusual
• Learning self examination techniques to monitor any changes to your body
Soteropoulos' own department is taking a proactive role in protecting its members by making it mandatory for firefighters to take an annual physical check-up.
"Through this, they have flagged up things like prostate cancer in guys who didn't know they had it," Soteropoulos said.
One of the main roles of the Firefighter Cancer Support Network is to provide mentors to those recently diagnosed with the disease.
It currently has about 50 firefighters, both volunteer and professional, who are receiving support from mentors. Group coordinators try to match up mentors who have had the same type of cancer as the service user. 
"I've mentored a couple of people and it was very rewarding for me to give something back to the cancer community," Soteropoulos said.
"The biggest thing is arming them with knowledge. When you're diagnosed with cancer, you can't just trust and expect people to take care of you.
"It helps to talk with someone who has been through the same thing."