Care comes full circle: Wash. firefighters assist nurse, and she returns the favor
After firefighters awarded Alexis Skjelbred a scholarship, she went on to become a nurse who now treats many of the same firefighters
---
Treva Lind
The Spokesman-Review, Spokane, Wash.
SPOKANE, Wash. — Alexis Skjelbred dreamed at an early age of becoming a nurse. With academic struggles because of test anxiety, she gave up that idea during high school.
Even eight years ago, such a goal seemed distant. Skjelbred was entering her 40s while juggling being a single mom, working two jobs and starting at Spokane Community College. In 2013, a support line came from an unexpected source: Spokane Valley firefighters.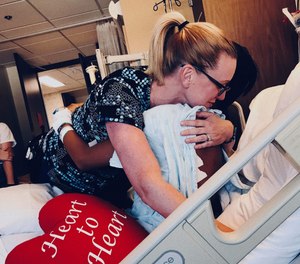 A group of those firefighters interviewed her for the Spokane Valley Fire Employees Scholarship funded largely by voluntary withdrawals from paychecks. After hearing of her passion to pursue a nursing degree, they gave her educational funds when she needed it most, Skjelbred said.
Hired as a cardiac care nurse at Providence Sacred Heart Medical Center in 2017, she's since had the chance to care for some of those firefighters in the hospital while thanking each of them personally.
"I have had the chance to care for firefighters in several different capacities at the hospital, and that has just been amazing to think they helped me and now I'm able to give back to them," said Skjelbred, 47, who because of patient privacy laws can't name those individuals.
But both she and some firefighters know who, including an encounter when she cared for one of their members toward the end of his life. She shared that memory in a recent SVFD post.
"I remember a particular conversation I had with one of the firefighters. I was able to thank him personally for this scholarship and tell him how much it meant to me. Before he passed, he knew he helped make a difference in my life."
She described even broader ripple effects. Skjelbred eventually transferred to complete a bachelor of science in nursing at Washington State University Spokane. Her daughters watched the hard work and overcoming obstacles. Now as adults, they're both considering nursing careers.
Skjelbred grew up in Northern California. She worked in construction and plumbing, got married and had her two daughters. Before a move to Spokane in 2004, she also worked for a regional cardiology group in Sacramento.
"That's where I started getting a little bit more confident," she said. After moving here, it took a few years before she landed work at Community Health Association of Spokane around 2009. She also went through a divorce during the 2008-09 school year, she said. "The girls were in high school during the divorce, which was a very hard age for them."
But at CHAS, "There was a lot of learning about myself that was good," Skjelbred added. A CHAS co-worker also encouraged her to become a nurse.
"I worked in their referrals department, and this is before a lot of health insurance things changed. It gave me the opportunity to work with medically underserved people and help collate information and navigate getting them into specialty care."
She discovered a knack for understanding different medical diagnoses and putting concepts together to expedite care and recognize challenges. "I had a nurse manager there who said, 'Why aren't you a nurse already? You should be a nurse.' "
She started looking at SCC and enrolled by 2011, she said, although she worked at CHAS five days a week and also as a weekend bartender "to help keep a roof over our heads and digging out of debt."
"I worked and plugged away about six days a week for a couple of years there. It meant I wasn't there for my kids when they needed me the most, but I kept them safe."
Skjelbred wed again, this time to a farmer, Todd Wright, who also encouraged her decision to become a nurse. This past June, she recognized her husband's heart attack symptoms and quickly got him to the hospital where he had a stent procedure.
When she began her general education requirements at SCC, Skjelbred said she realized her ability to learn was very different and more focused as an adult. She earned a high GPA. And then she got that call out of the blue from a firefighter.
"I had put in a generic scholarship application about the year before and never heard anything back," Skjelbred said. "I got a phone call, and someone identified themselves from the Spokane Valley Fire Department. I'm saying, 'Oh, is my cat OK? Did my house burn down?' "
The caller confirmed that all was OK; she was invited to interview for a possible scholarship.
"I was really nervous, but it was a great experience with probably eight people in a round-table discussion," she said. "It gave me the opportunity to really share who I am and to have them really see me and understand my passion."
She recalled saying that she was going to achieve her goal either way, but that she'd appreciate any support. Skjelbred got a call later that same day from SVFD awarding her a scholarship.
"Financially, I felt overwhelmed with goodness because nursing school books are unbelievably expensive, even if you rent them, as science is always changing and evolving.
"What blew me away was that these smart guys who really know their stuff and do a lot in the community thought I was worthy of their hard-earned money. They had faith in me. It gives you courage and motivation when you're having a hard time because I'm here to tell you nursing school is tough."
Darrin Coldiron, SVFD firefighter and a scholarship founder, said a group of employees in May 2011 decided to support Spokane Valley nontraditional SCC students seeking vocational training from nursing to mechanics.
It was during an economic downturn when firefighters knew that people in the community were struggling, he said. Recipients must live in the Spokane Valley fire district.
"As firefighters, our job is to serve the community," Coldiron said. "We do that in emergency situations all the time, but I think our service doesn't leave when we leave the job. We're dependent on the community being healthy and strong, and this is a way we can help the community."
Skjelbred had simultaneously applied to the SCC and WSU nursing programs, but she wasn't sure she'd make it into the university bachelor's program. She got the WSU acceptance after entering SCC's nursing program and completed that quarter.
The SVFD scholarship meant she could afford that period's SCC training and necessary books, she said. Skjelbred, who decided to go for the bachelor's degree, said she contacted SCC to request that any remaining funds from the yearlong scholarship go to another college nursing student.
"I had amazing educational opportunities at SCC that provided the foundation for the kind of nurse I am now," Skjelbred added.
"I know the scholarship put me in a position where I didn't have to take out as big of a student loan, and I was able to spend more money on books.
"I had received my acceptance letter to WSU a couple of weeks into the quarter at SCC, and I didn't take my foot off the gas. I remember thinking, 'Those guys paid for this quarter and supported me.' I wasn't going to waste a penny of their money.
"I still feel overwhelmed with goodness to have had their support. It's a huge privilege, and I'm just grateful."
———
©2019 The Spokesman-Review (Spokane, Wash.)
McClatchy-Tribune News Service