Combating known risks to firefighter health
By taking the right steps, firefighters can reduce their exposure to unnecessary risks that may jeopardize their personal health
---
By Keith Collins, alumni, Fire Science Management, American Military University
Firefighters take health risks every single time they walk through the bay doors of their fire station. While firefighters undergo rigorous training to ensure they respond as safely as possible to a variety of emergencies, they often overlook steps that can help protect their personal health.
Protect Against Cancer-Causing Agents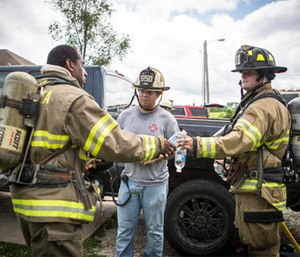 One of the greatest threats to firefighter health is exposure to toxic chemicals that are known to cause cancer. Cancer is a leading cause of death amongst firefighters. Of the firefighters named on the Fallen Firefighter Memorial Wall of Honor, 54.8 percent of them died from cancer, according to the IAFF.
Firefighters wear protective gear and self-contained breathing apparatus when responding to fires that largely protects them from exposure to carcinogens. On a regular basis Firefighters are exposed to cancer hazards including engine exhaust (diesel), ultraviolet (UV) radiation, asbestos, benzene, and benzo[a]pyrene. These contaminants remain on gear and it's critical that firefighters protect themselves by properly and thoroughly cleaning their equipment. This should be done on a regular basis as well as after every call with exposure or potential exposure.
In a previous article, Five Ways Firefighters Can Reduce Their Risk for Cancer, I discussed some methods to help reduce exposure to carcinogens. This article focused mainly on changing the mentality of firefighters associating clothing caked in soot as a symbol of status or hard work. Here I will focus more on ways we can address this.
Protective measures should always be taken when cleaning gear. Off-gassing structural gear exposes firefighters to harmful particulates such as PAH, VOCs, and HCN to name a few. Structural fires should be treated similarly to a hazardous materials incident with regard to decontamination. Fire departments should work to adopt decontamination procedures to address the contaminants of a post-incident structure fire such as: 
Manage your air and your time: Personnel exiting the area identified as Immediately Dangerous to Life and Health (IDLH) should remain in full PPE with SCBA breathing air until decontamination is complete.
Have both a wet and dry decontamination process outlined
Keep some containers or bags on your apparatus for the contaminated PPE and keep it away from your crew once it's collected.
Understand how to get used gear back in service: Handing contaminated PPE back at the station should be done by personnel wearing particulate mask, goggles/safety glasses, and protective gloves. Consider exposure forms for those involved in fire operations and in decontamination/PPE reservice operations.
For more educational materials on toxin contamination prevention check out the "Not in our house" resources from Lion.
Fight Obesity to Prevent Diabetes, Heart Disease
Another major risk to firefighter health is obesity. Individuals working in the protective services (police, fire and EMS) had the highest risk of obesity amongst the 28 professional occupations assessed in a 2014 CDC study. Obesity causes many health problems including coronary heart disease, high blood pressure, Type 2 diabetes, sleep apnea, and more. Firefighters are dying because of these known diseases associated with obesity.
To fight obesity, firefighters should focus on improving their physical fitness. Without endorsing any of these programs, there are several firefighter-centric physical fitness resources available online including:
It's also important for firefighters to focus on nutrition; however, it can be extremely challenging to truly understand your body's needs. There is so much contradicting information on what is healthy for you and what is not. The National Volunteer Fire Council (NVFC) has some basic information on nutrition.  The U.S. Forest Service also provides eating and health performance tips for wildland firefighters. Finally, for a meat-free take on firefighter health, check out Engine 2 Plant Strong. Firefighters should spend some time doing research and refining what works best for them—your health and happiness are worth the effort.
Get Quality Sleep
Firefighters often do not get adequate sleep. Calls through the night interrupt the circadian rhythm and have exceptionally undesirable effects. Sleep deprivation (like obesity) is a gateway problem that leads to undue negative health consequences. People who suffer from sleep deprivation have a 36 percent increase in colorectal cancer, are at three times the risk for Type 2 diabetes, have a 33 percent increased risk for dementia, are at greater risk for anxiety, depression, forgetfulness, and have a 48 percent increased risk in developing heart disease.
One solution that has been offered by some experts is napping. While this may not work for everyone, taking short naps has several positive benefits and can help some people get additional much-needed rest. While the jury is still out on whether or not people can catch up on sleep, it's important to try to stick to a routine when possible and get to bed at a committed time every night. For more information on sleep recommendations, visit the National Sleep Foundation.
Address Your Mental Health
While many in the fire service know about risks of cancer or heart disease, only recently have studies been tracking the mental toll of the job. For example, symptoms of post-traumatic stress (PTS) have been found to present in as high as 37 percent of firefighters. Issues of mental health are a major problem in the fire service and something all firefighters need to take seriously. In 2014, there were 468 reported suicides of firefighter and EMTs, according to the Firefighter Behavioral Health Alliance. The actual rate of suicide among first responders is thought to be considerably higher.
Recognition is the first key. If you find yourself more withdrawn than usual, angrier, or more depressed or apathetic – say something. Your friends, your family, your community – people care about you and want you to be okay. The Firefighter Behavioral Health Alliance has resources as well as a self-assessment tool for suicide. Please reach out, before it's too late.
Alcohol and Substance Abuse
Often used as a coping mechanism for heightened levels of stress, many firefighters turn to alcohol and other substances. According to a 2013 national survey and a 2010 CDC evaluation on binge drinking, members of the fire service were found to have a binge drinking rate approximately double that of the general public.
There are numerous forms of addiction and substance abuse that require different routes to recovery. It can be extremely difficult to help others address substance abuse issues. Individuals must first acknowledge they're engaging in negative and potentially damaging practices and then make a conscious effort to step away from such adverse habits. When that doesn't work, they need to accept help.
While being a firefighter will always involve risk, by taking the right steps, firefighters can reduce their exposure to unnecessary risks that may jeopardize their personal health.
About the author
Keith Collins graduated in 2014 with a bachelor's of science in Fire Science Management from American Military University. In 2017, he earned a Master's Degree in Public Health from Grand Canyon University. Keith has more than 14 years in the fire service, including military service, and is currently working as a firefighter in Fort Huachuca, Arizona. Follow Keith on Twitter @keithgcollins. To reach him, email IPSauthor@apus.edu. For more articles featuring insight from industry experts, subscribe to In Public Safety's bi-monthly newsletter.