Dallas FF-paramedic starts coffee company
Fire Grounds Coffee donates a bag of coffee to first responders for every five bags sold, just one of several ways the company gives back to the community
---
By News Staff
DALLAS — Dallas Firefighter-Paramedic Paul Clarke developed four brands of coffee to create a better brew for his fellow first responders.
Clarke, a U.S. Marine Corps Forces Reserve officer, began fleshing the business idea out during a nine-month deployment to Afghanistan. He wanted to create a blend that would take the flavor to the next level, as well as include an element that would allow him to give back to the community.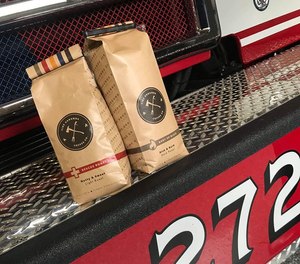 "We started pricing out the roasting equipment and working on the brand, the logo and the art on the packages," Clarke said. "When I got back, I pulled the trigger on everything."
Clarke launched Fire Grounds Coffee Company earlier this year in a group effort that included two U.S. Air Force captains, a Marine captain, friends and family. After the launch, Clarke was joined by Dallas Fire-Rescue Kyle Lund, and the duo created four blends from single-roasted Colombian Excelso: Rescue Roast, Bubba Brew, Bury Up Black and Back the Blue.
"It is a high-grade coffee," Clarke said. "It has hints of almond and caramel, which I was excited about because no matter how you roast that flavor variety, it's going to taste great."
Fire Grounds Coffee Company donates a portion of its profits to Next Rung, a mental health support organization for first responders. Clarke and Lund also donated 722 pounds of coffee to the Muscular Dystrophy Association, which will be handed out to Dallas firefighters as a "thank you" for raising $360,000 during a Fill the Boot fundraising event.
The pair also gives away one bag of coffee to first responders for every five sold, solidifying the plan Clarke came up within Afghanistan.
"I figured if we were going to make great coffee branded for them, then we might as well create a mechanism within the company to also give them coffee for free," Clarke says.