Fire captain's weight loss journey inspires firefighter wellness program
After Jeff Rhein lost his father to cancer, he entered the Scott Firefighter Combat Challenge and launched a new nutrition, training and tracking wellness resource
---
While researching firefighter health and wellness software, my internet searches turned up few results with these keywords, though I did come across a few that specifically addressed firefighter fitness.
So, I changed the focus of my search to health and wellness programs in the private sector and corporate world. This new research path led me to Darryl Gordon and Alex Dorne at MediKeeper, a company that designs health and wellness program portals for organizations in both the public and private sectors. These two gentlemen subsequently put me in touch with Jeff Rhein and a team that has used MediKeeper's portal technology to design a health and wellness program that's tailored to meet the unique needs of fire departments.
A firefighter's health and wellness epiphany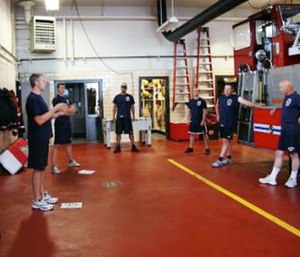 Jeff Rhein is a captain on a metro fire department just north of Minneapolis and a regional vice president for Pierce Manufacturing. About six years ago, Rhein's father was diagnosed with prostate cancer and he ultimately died from the disease.
After his father's death, Rhein consulted with his own doctor, who recommended that Rhein lose weight as it was the ultimate measure to prevent the same disease that took his dad prematurely.
So, Rhein decided to enter the Scott Firefighter Combat Challenge as the precursor to his weight-loss efforts. The innovator behind the Combat Challenge, Dr. Paul Davis, became a great friend of his and Dr. Davis uses Jeff's story in his presentations around the world.
Rhein's experience leads to helping fellow firefighters
Following his personal physiological transformation, and because of meeting firefighters from different fire departments across North America, Rhein has discussed firefighter health and wellness with hundreds of firefighters. Many of those firefighters have enlisted Rhein's help in creating a program to help them become healthier. Coincidently, two of Rhein's close friends, Maralaine Maahs and Mary Sarych, had the tools to help Rhein help other firefighters.
About a year ago, Rhein began working as an adviser to those two women, along with Dan Sheets, in the development of a portal for a first responder health and wellness program called Healthy Hero Wellness.
Maahs is board certified in holistic nutrition and a certified nutritional therapist and Sarych is an exercise physiologist and certified tactical strength and conditioning specialist. Sheets is a firefighter and EMT with the Lake Johanna (Minn.) Fire Department who brings a background in technology and website communication to the team.
Rhein says, "I can't say enough about the job that those three folks have done. I'm really just an adviser who I hope has brought my passion for firefighter health and wellness to the table."
The program they've developed just may be a game-changer in the fire service's efforts to reduce health risks, line of duty injuries and line of duty deaths. The portal consists of four modules – which Rhein describes as the program's four pillars:
A nutrition module –Maahs has developed easy-to-follow guidelines that enable firefighters to make better and smarter nutrition decisions.
A fitness module –Sarych's fitness program allows individual firefighters make the decisions about their fitness goals and how to achieve them.
A logging module – Firefighters have the capability to record their on-the-job exposures over the course of their service.
A training module – Fire departments can put their customized training – especially training that has a direct connection with firefighter health and wellness (e.g., SCBA use) in one place that's always accessible to everyone.
"We developed that training module because of the connection between training and a firefighter's ability to do their job safely," Rhein says, "because that's also a component of a health and wellness program, right? Not to get injured because you didn't know what you were doing or you weren't doing it correctly."
The program also provides the opportunity for the families of firefighters to become actively engaged as well. Maahs notes, "As a nutritionist, I know the importance of everyone in a family being a part of learning to eat better and to make better nutrition choices. That's why we make access to the portal available to firefighter families at no charge."