Houston firefighter's death reflects problem of suicide among first responders
Firefighters are three times more likely to die by suicide than in the line of duty, according to the National Fallen Firefighters Foundation
---
By Keri Blakinger
Houston Chronicle
HOUSTON — At first, Jason Hamilton's death seemed like a tragic accident.
The 12-year veteran Houston firefighter was eastbound on I-10 near Brookshire just after the morning rush hour on Jan.27 when suddenly his truck swerved across the median into oncoming traffic, striking another vehicle.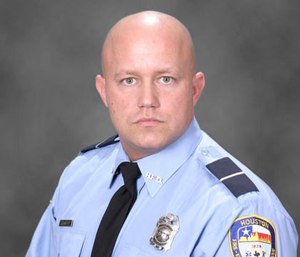 At first, authorities thought it might have been a tire problem that sparked the crash that also killed Shelley McKay, 61.
But this week they ruled the 43-year-old's death a suicide, although they have yet to reveal what led them to that conclusion.
Now the grieving family of Shelley McKay must contend with the fact that her death was a homicide.
"We are saddened to learn that this was an intentional act," said Pat McKay, her husband. "He hit my wife at 78 miles per hour or more. She was crushed. It was instantaneous."
The Bastrop mother was driving her 31-year-old daughter home from surgery at MD Anderson Cancer Center when she was hit by Hamilton, McKay said.
His daughter managed to escape from the wreckage and was flown to a hospital by LifeFlight.
"She's OK now," he said.
McKay described his relationship with his wife as "a true love story."
Born in Houston and raised in Rosebud and Bellville, Shelley McKay was a semi-retired certified public accountant. She and her husband met in college and had been together ever since.
"She was an extremely vibrant, exuberant person," he said, noting that she played in three tennis leagues in the Austin area.
Her funeral Tuesday drew more than 450 mourners.
Hamilton's death marked at least the ninth firefighter suicide nationwide this year.
Some city fire departments - including Houston - have robust suicide prevention programs in place, but firefighters are three times more likely to kill themselves than to die in the line of duty, according to the National Fallen Firefighters Foundation.
Before the wreck, Hamilton had been working as an Engineer Operator at Station 21 in southwest Houston. He is survived by his wife Laura and their sons, 9-year-old Bruce and 17-year-old Cody.
As news of the wreck spread online, friends in the first responder community started changing their Facebook profile pictures to honor the man they dubbed "Hammy."
"You will be dearly missed," one fellow firefighter wrote online.
After the medical examiner's ruling, the Houston Professional Fire Fighters Association issued a statement of support for both families, calling the deaths "a grim reminder of the prevalence of firefighter suicides," which it described as a "growing problem in Houston and around the nation."
According to Jeff Dill of the Phoenix-based Firefighter Behavioral Health Alliance, it's difficult to determine whether firefighter suicides are actually on the rise.
"Before we started in 2011, no one was keeping any data on this," Dill said. The former Chicago-area firefighter now talks to fire captains and chiefs across the country to track suicides and line-of-duty deaths.
In 2016, the health alliance verified 131 firefighter and EMT suicides - but Dill said it's likely less than half of all departments are reporting.
Though research on first responder mental health is limited, a recent study published in the Journal of Affective Disorders found that half of firefighters have suicidal ideation and 15 percent have tried to kill themselves.
Though the authors called the overall numbers "alarmingly high," the study found newer and lower-ranking firefighters as well as those in all-volunteer departments were most at risk.
Dill attributes the high self-harm rate to the stress and trauma of the job as well as a failure to discuss mental health.
"When we started we were taught everything we can to save the community, but what we didn't talk about was any behavioral health," he said. "Guess what? You'll suffer from depression and anxiety - but those things were never talked about."
But Houston was one of the early adopters of a suicide prevention program, according to a report by the Nova Southeastern University Center for Psychological Studies report.
"We have a rather extensive and elaborate suicide prevention program in the department," said HFD staff psychologist Dr. Sam Buser.
Launched around 2007, the program was implemented on the heels of three active duty suicides and four retiree suicides in seven years, according to the report.
There were no suicides for five years - apparently until 2012, when 40-year-old Richard Deluna fatally stabbed his girlfriend and then hanged himself in the couple's Atascocita-area home. It's not clear if there have been other deaths since then, as an HFD spokesman was unable to make that information immediately available.
Today, the department's suicide prevention efforts include a peer support team, two psychologists, an employee assistance program, a chaplain and periodic suicide prevention training that includes classes for all new firefighters.
But all that is little consolation to the McKays right now.
"We're still in a state of shock," said Pat McKay.
"I just miss my wife."
Copyright 2017 the Houston Chronicle