'If you don't feel well, don't make it your farewell'
New IAFC campaign focuses on watching for warning signs of cardiac events
---
As a fire chief, I love training with my firefighters. I do not believe you just can sit in an ivory tower and dictate policy. So even in my mid-50s, I love strapping on my bunker gear, air tank and other PPE to engaged in live-fire training with my firefighters. But something was different about one such training event in 2015.
Living to tell my "I don't feel well" story
During a live-fire training evolution, I strapped on all my gear and entered a large burn building that simulated multiple two-story storefronts. I followed the first hoseline team that entered the building – in zero visibility – to the rear of the building. Other teams went to the second floor to ventilate and conduct searches. I decided to also go to the second floor. I exited the building and walked up two flights of exterior stairs to the second floor and entered another zero-visibility environment. But something felt different.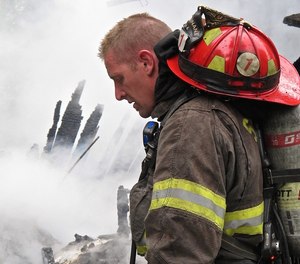 After climbing the second flight of stairs, I had zero energy. I was exhausted and felt like a limp washrag. I had no "get-up-and-go" and decided I was too old to be running around burn buildings with 70 pounds of gear on me.
I exited the building and walked down the two flights of stairs. While walking to my car, I told the operations chief outside the building, "I'm too old for this."
A week later I found myself in a cath lab getting stents placed in my right coronary artery. I never had a heart attack, but I was not far away from one.
My body had been signaling to me that something wrong – but I was in denial. I chalked it up to being too old, being overweight and not exercising enough, and told myself that this sort of thing happens to others, too. I could not be more wrong.
What happened to me is a common theme among firefighters who die from cardiac events. Many of those firefighters also relayed something similar to what I said – things like "I don't feel well," I don't feel right" or "something feels wrong." Their bodies were signaling to them, just like it was to me. Unfortunately, in too many cases, we tell the firefighter to go lay down in the bunk hall or go home, assuming the bad feelings will pass.
We often find ourselves in denial. We think that nothing serious will happen to us. It happens to "other people," not me. Ironically, paramedics – members trained to identify health problems – seem to most often ignore these strong signals from body that something is seriously wrong. 
Firefighters reported not feeling well
I have seen this play out with multiple firefighter cardiac deaths, including two members to whom I had ties.
In June 2018, Chris Moore, a firefighter/paramedic with the Maryland Heights Fire Protection District in Missouri, was not feeling well at the station and went home. He was later found dead at his home. His fire chief, Steve Olshwanger, is one of my best friends and recently installed me as president of the International Association of Fire Chiefs (IAFC). An autopsy showed Moore had died of heart disease at just 42 years old.
In July 2019, Chris Coleman, a firefighter/paramedic with the Memphis Fire Department, was at the fire station and started throwing up around 4 a.m. Firefighters described him as not looking good. He went back in the bunk hall and laid down for the rest of the shift, and the company ran with three firefighters instead of calling someone in for just a few hours. Coleman left the station at 7 a.m., went home and stayed in the bed the rest of the day. The next day, he went to pick up supplies for one of his children's birthday and was found in cardiac arrest in his truck. One of the firefighter/paramedics who worked the cardiac arrest was a paramedic that Coleman had precepted.
These two stories are not isolated examples. John Michael "Mike" Cummins, a volunteer firefighter with the Homer Fire Protection District, in my home county of Champaign, Illinois, died in February 2017. After responding to a call and returning to the station, Cummins told his fellow firefighters he was not feeling well and was going to go home. He left and five minutes later, the Homer FPD was dispatched to an auto accident. Cummins had crashed into a tree and was in cardiac arrest. He was 46 years old.
More recently, on September 21, 2019, Houston Firefighter Kenneth Stavinoha collapsed at Station 27 after suffering a heart attack. Stavinoha was only 36.
Watch for the warning signs
Can we stop some of these deaths from happening? Yes! It starts with awareness. We need to teach fire personnel of all ranks – firefighters, company officers and chiefs alike – that if a member does not feel well after some operational or training event, don't make it their farewell.
I am not talking someone who has a cold or their stomach is bothering them. I'm talking about the "I don't feel well" but can't quite explain why situation – one that I have experienced. The body is signaling that something is wrong. In many of these cases, the firefighter knows it but doesn't want to say anything to fellow firefighters.
We must stop telling these firefighters to just go home and rest or go lay down in the bunk hall. We must stop ignoring when firefighters tell us something is wrong, or they don't feel right after an operational or training event. These are warning signs that are flashing that an intervention is needed.
IAFC campaign planning and launch
As president and chairman of the board for the IAFC, one of my initiatives is to reduce firefighter cardiac deaths through this awareness campaign. Almost half of all firefighter deaths each year recognized by the U.S. Fire Administration are cardiac events. According to the NFPA report Firefighter fatalities in the United States – 2018, 41% of firefighter deaths in 2018 were related to a sudden cardiac death.
On Aug. 8, the day after I was installed as president of the IAFC, we held the first meeting focused on the "If you don't feel well, don't make it your farewell" program. Representatives from the IAFC's EMS, Safety, Health & Survival, Metro Chiefs and Volunteer & Combination Officers sections sit on the committee. Also, representatives from Global Medical Response (GMR) provide financial and medical expertise for the committee.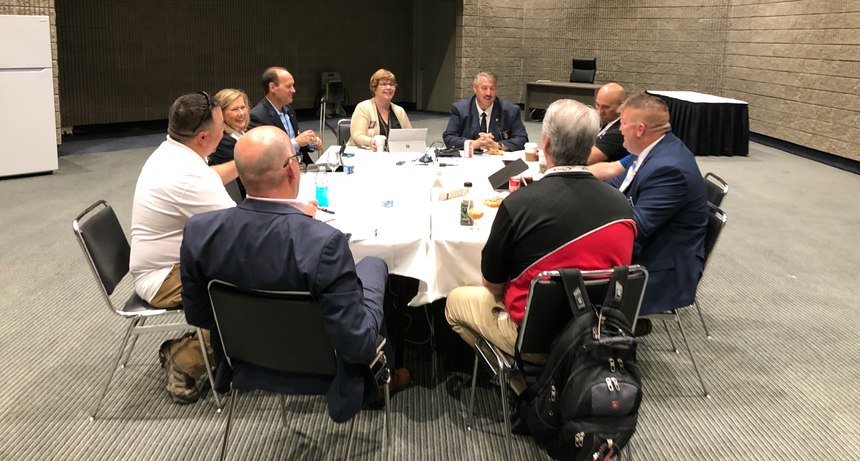 The first meeting went extremely well, and the committee will reconvene for two days in October at the IAFC offices just outside Washington, D.C., to work out the details of the campaign, including how to roll it, involvement from other national fire organizations, data collection, sustainability of the program, among other details.
This will not be an awareness and education campaign to promote all the heart-healthy things we already know related to nutrition, exercise, weight loss, blood pressure, etc. This campaign will be about interrupting the downward spiral of a firefighter who is suffering a cardiac event and their body is telling them that something is wrong – interrupting the event before it is too late.
It's about all firefighters being aware of the warning signs and not simply telling a firefighter who isn't feeling well to go lay down in the bunk hall or to go home and rest – situations in which they may suffer a cardiac event with no one around to help them. What we need to do is listen to them. At the minimum, we need to put them on a heart monitor and see what their EKG looks like. And in some cases, they should be transported to an emergency room and evaluated. Key to this is the firefighter being honest about their symptoms and whether it's something they have experienced before, like the flu, or something different, potentially warranting a trip to the hospital.
Watch for this campaign to be rolled out in the first half of 2020. My hope is that we will save more and more lives as the program continues to escalate and more firefighters become aware of what needs to happen when they don't feel well – all to ensure that we don't make it their farewell.