Know your numbers: Tracking physical and behavioral health
Firefighters can take control of their health by monitoring their behavior, tracking symptoms and identifying risk factors
---
Everyone should have a general awareness of their own health status, yet that's often not the case, even with firefighters.  
The American Heart Association's Know Your Numbers program focuses on being aware of your status on cardiovascular risk factors, including blood sugar, blood pressure, cholesterol and weight. The goal of the program is to identify problems as they develop rather than waiting for people to be at high risk or to experience a heart attack before ever seeking medical attention.
Evaluations of Know Your Numbers campaigns have found they are effective in both raising awareness and promoting action. In one evaluation of a similar program in Australia, Dr. Dominique Cadilhac and colleagues found that nearly one-third of people screened and determined to have high blood pressure were not aware of their blood pressure status. Three months after the initial screenings, 82% of people reported improved knowledge. Most people who were advised to visit their doctor did so after the screening, and all the participants reported making some improvement in their health-promotion activities at follow-up.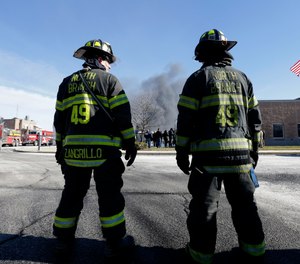 Dr. Stefanos Kales from Harvard University examined self-perceptions of obesity status and found that 68% of overweight and obese firefighters underestimated their body composition status. Firefighters generally had to be Class II obese before they identified themselves as at high risk.
The findings highlight the importance and effectiveness of knowing your numbers as a health-promotion tool when it comes to cardiovascular disease – and highlights the importance of annual medical screenings where these numbers are tracked over time.
Tracking behavioral health symptoms
With these finding in mind, it makes sense that tracking risk factors related to other health categories, including behavioral health, could provide lessons for firefighters as well.
Unfortunately, people seem to be the worst judge of their own behavioral health. Because of the way behavioral health challenges, such as depression, anxiety and post-traumatic stress symptoms develop, it is not uncommon for them to get progressively worse – often without the person realizing how much they are struggling until the people around them see changes in behaviors, attitudes and actions.
Both NFPA 1582: Standard on Comprehensive Occupational Medical Program for Fire Departments and the IAFF Fire Service Joint Labor Management Wellness-Fitness Initiative recommend annual behavioral health screenings. Similar to knowing your cardiovascular health numbers, the concept is that firefighters should be aware of their own behavioral health status and changes.
There are several screening tools available that firefighters can use on a regular basis to monitor or track their emotions, behaviors and/or symptoms of stress, depression or anxiety. One example is the National Fallen Firefighters Foundation Life Safety Initiative #13 geared toward psychological support, which recommends a Trauma Screening Questionnaire (TSQ). Mental Health America also offers a depression test and an anxiety test.
Evaluating alcohol use
Another important area related to behavioral health is monitoring alcohol use. In a study from the Center for Fire, Rescue & EMS Health Research that looked at alcohol use in the fire service, a common theme that emerged was the belief among firefighters that they don't drink more than other occupational groups. 
National data, however, indicates that rates of binge and heavy drinking are extremely high among firefighters. It is likely that the social norms associated with alcohol use among firefighters influence these misperceptions of the relative rates.
The National Institute on Alcohol Abuse and Alcoholism offers screening tests to help individuals evaluate their behavior.   
Track and take action
Being aware of your risk factors is important, whether it is cardiovascular risk factors, behavioral health or substance use. Know your numbers. Track your numbers over time. And importantly, address the health problems once you identify them.