Researchers studying long-term safety of COVID-19 vaccine for first responders
EMS and fire personnel are asked to participate in the HERO-TOGETHER study to share their experience
---
By Laura French
DURHAM, N.C. — Researchers are asking first responders to share their experiences with the COVID-19 vaccine for a safety-surveillance study. 
The Healthcare Worker Exposure Response & Outcomes (HERO) Registry is conducting the HERO-TOGETHER study to understand the long-term outcomes of COVID-19 vaccination, according to a HERO Registry statement. Study participants will complete brief surveys over a two-year period and receive compensation for their time.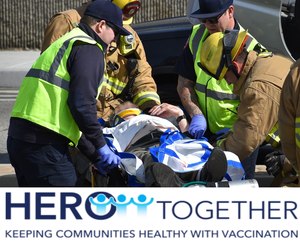 "Data on long-term safety is crucial for building vaccine confidence. By collecting different people's experiences with the vaccine, we can better understand long-term outcomes and build confidence for vaccine use over time," HERO Registry officials wrote in a statement. 
The HERO Registry is also conducting surveys on the pandemic's impact on first responders, including its effect on mental health and burnout, as well as the lasting health effects for those who have contracted the virus. First responders in the fire service, EMS and law enforcement are invited to participate, and do not have to have had COVID-19 to provide their feedback. 
More information can be found on the HERO Registry website. The Registry is funded through a Patient-Centered Outcomes Research Institute award, is coordinated by the Duke Clinical Research Institute and leverages the National Patient-Centered Clinical Research Network (PCORnet).