Software to implement and manage your fire department's health and wellness program
Health and wellness program software aims to improve firefighter health and protect their access to cancer presumption legislation
---
Your fire department may or may not have a health and wellness program in place. If yours does, how are you managing it? If yours doesn't, how are you going to develop and implement one?
One of the key aspects of managing a firefighter health and wellness program is measuring how effectively the program is functioning. Are your firefighters getting healthier and are they staying healthy? Because that's the bottom line, right?
The International Association of Firefighters partnered with the International Association of Fire Chiefs in the latter 1990s to develop a program to improve firefighter health and wellness. That collaboration resulted in the IAFF/IAFC Joint Labor/Management Wellness Fitness Initiative. The WFI has three goals for fire departments[1]: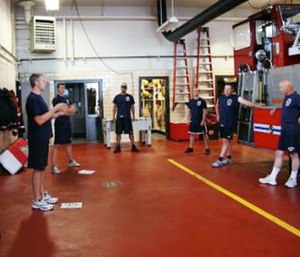 Improve the quality of life for safety personnel;
Create a working environment conducive to maintaining healthy and physically fit firefighters; and
Reduce worker's compensation costs and lost workdays.
I think there's a fourth bullet that should be added to that list: creating an employee or member health and wellness record that can withstand the scrutiny of insurance companies, and state and local governments. This scrutiny will surely come as more firefighters seek to claim coverage for cancer treatments under firefighter cancer presumption laws.
Currently, 33 states in the U.S. and every Canadian province have some version of firefighter cancer presumption legislation on the books[2]. As incidences of firefighter cancer grow and are more widely recognized, those entities responsible for reviewing these claims will be doing so with an eye toward denying claims based upon lack of sufficient individual case data.
Don't think so? In the 1990s in Virginia (where I served as a firefighter for 26 years), when some of the first cases seeking coverage under Virginia's Heart and Lung Bill (which presumed that heart and lung disease relates to service as a firefighter) came before the state's Worker's Compensation Board, many were initially denied. Only after proceeding with litigation did a number of those cases get resolved in favor of the firefighter.
I forecast the same scenario with firefighter cancer presumption legislation. Future firefighters who develop cancer on the job will have a much stronger case if their fire departments have tracked and documented their health and wellness – and all exposures to smoke and other toxic materials – throughout the course of their service.
Merging firefighter health and wellness programs with technology
The fire service is not alone in seeking to develop a healthier workforce. Many progressive private and public-sector organizations have implemented employee health and wellness programs to:
Control healthcare costs;
Increase productivity; and
Improve the overall health and well-being of their employees.
Many of those companies and organizations are finding that their well-meaning efforts are falling short because they don't have the information to answer the question: Are we making a difference[3]? 
To remedy this lack of information, thought-leaders from across the board are looking to technology to boost employee engagement and help deliver results. Online portals are an increasingly attractive option, though not without potential pitfalls.
MediKeeper, a technology company that designs customizable portals for employers, benefits providers, health plans and wellness companies to manage corporate health, offers the following 10 questions that any organization should pose to a potential portal vendor[3].
1. Is the vendor a technology provider or a wellness company?
2. Does the portal feature a wide array of applications and services that stays current with technology trends?
3. What are the portal's integration capabilities?
4. What level of customization is available?
5. Is the portal scalable, and if so, how readily can you add or disable functionality?
6. Is the solution flexible?
7. Are reporting and analytics available in real-time?
8. Does the portal incorporate secure targeted messaging? What about text messaging?
9. Can the portal support social challenges and gamification as well as custom incentives and rewards? (Early research results indicate that social challenges and gamification are positive motivators that create greater employee engagement in a health and wellness program).
10. How does the portal provider ensure the security of personally identifiable information and protected health information? Is the portal HIPAA compliant?
For fire departments, any discussions with potential portal vendors should include the implementation guidance from the WFI[4]. This will ensure that the department's and the vendor's expectations align prior to any formal commitments by either party.
Resources to help manage your own health and wellness program
The Wellness Council of America is an organization that serves to help business and health professionals improve employee well-being and create healthier organizational cultures. With more than 5,000 corporate members, WELCOA is a clearinghouse for information relative to health and wellness programs in both the private and public sectors, and has published a 2017 Buyer's Guide for leading health and wellness product and service providers[5].
CoreHealth from CoreHealth Technologies provides a platform to bring all of your department's health and wellness program components into one place. With CoreHealth, your department can create its own unique portal and dedicated sub-sites for your employees or members without the need for programming. Its intuitive interface enables your department to set up your portal quickly and get your employees onboarded more efficiently.
CoreHealth also provides fire departments access to more than 140 unique wellness innovations through its CoreHealth Wellness Network. Your department has the capability to pick and choose from those proven health and wellness initiatives from the network when building its platform.
Health Risk Assessment from MediKeeper can be a stand-alone product or be part of MediKeeper's more robust Wellness Portal. With Health Risk Assessment, firefighters complete a detailed questionnaire about their lifestyle, demographics and personal medical history to calculate their risk for up to 16 diseases and conditions. Health Risk Assessment can then take those responses and give users individualized feedback plus suggestions for lowering their risk.
References
1. IAFF. IAFF/ IAFC Joint Labor/ Management Wellness Fitness Initiative. PowerPoint slide overview. http://www.iaff.org/HS/wfiresource/WFI_ImplementationResources/WFI%20overview.pdf
2. IAFF. Presumptive LAW COVERAGE FOR CANCER. Available at: www.iaff.org/hs/phi/disease/cancer.asp
3. MediKeeper. 10 questions to ask your wellness portal vendor. white paper. Available at: https://medikeeper.com/wp-content/uploads/2016/11/10_Questions_To_Ask_white_paper.pdf
4. IAFF. Wellness and fitness initiative: Implementation. Available at:  http://www.iaff.org/HS/wfiresource/Implementation/implementation.html
5. WELCOA. Workplace wellness programs: The penalties and risks of noncompliance. Available at: https://www.welcoa.org/blog/workplace-wellness-programs-penalties-risks-noncompliance/