Study: 9/11 first responders with PTSD at higher risk for early-onset dementia
A significant portion of first responders had new onset cognitive impairment years after their first initial cognitive test
---
By News Staff 
STONY BROOK, N.Y. — A study by Stony Brook University researchers found that PTSD is associated with mild cognitive impairment (MCI) in 9/11 first responders. In addition, first responders with the gene marker for dementia are at a higher risk of cognitive impairment the longer they were exposed to toxins at Ground Zero.
The study builds on a previous pilot study by SBU Associate Professor Sean Clouston that focused on the cognitive health of first responders. Participants established a cognitive baseline in 2014 and then tested annually to check for decline.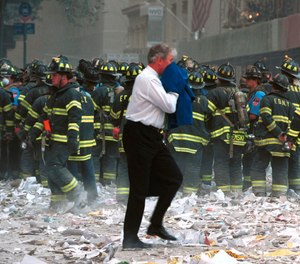 "One of the most concerning aspects of our findings is that we found a significant portion of responders have new onset cognitive impairment when many of them were cognitively normal within just the past few years," Clouston said.
Researchers also found that cognitive decline increased twice as fast in responders with advanced symptoms of post-traumatic stress.
In the latest study, researchers analyzed blood samples from 1,800 first responders and connected the genetic marker Apoliopoprotein-e4 – which is associated with dementia and Alzheimer's disease – had advanced levels of cognitive impairment the longer they were exposed to the chemicals at Ground Zero.
"This study underlies the increasingly apparent evidence that PTSD is not merely a psychological condition but also can have significant pathological effects on the brain and body," Benjamin Luft, MD, director of the Stony Brook World Trade Center Health and Wellness Program, co-author and clinical lead of the study, said.
The study was published in Alzheimer's & Dementia: Diagnosis, Assessment, and Disease Monitoring