The challenge of recognizing PTSD in firefighters
Perhaps a key reason PTSD hasn't been talked about enough in the fire service community is the expectation many firefighters feel to fit a certain mold
---
This article was updated March 27, 2017.
By Jinnie Chua, Assistant Editor of In Public Safety
Post-traumatic stress disorder (PTSD) is a familiar condition these days, primarily associated with military personnel returning from war zones. However, in a new precedent, an appeals court in Illinois recently ruled that a fire official should receive workers' compensation for PTSD, and many public safety officials are trying to develop a more comprehensive understanding of who is at risk.
"It's a little scary that we had to go to court over a condition we already know exists," said Kevin Kupietz, a fire instructor at the Roanoke Rapids (NC) Fire Department and a faculty member in the Emergency and Disaster Management program at American Military University. "PTSD first transpired in the military, then law enforcement and we've just started to look at it in the fire service, but we still have to make it a priority."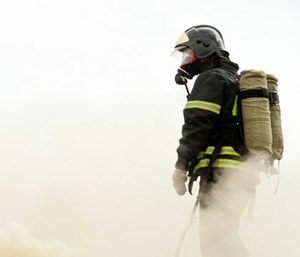 The conversation around the issue may be in the early stages, but that doesn't mean PTSD among firefighters is a new occurrence in itself. It's more a matter of recognizing the condition where it hasn't been identified before.
BEATING THE STIGMA
Perhaps a key reason PTSD hasn't been talked about enough in the fire service community is the expectation many firefighters feel to fit a certain mold. Firefighters have long been held to an image of hardiness and strength. The idea of betraying this image can sometimes make it difficult for them to come forward and seek help.
In his more than 20 years of service as a firefighter and paramedic, Kupietz has yet to have a troubled coworker approach him directly. "It'll be the wife who calls up and says 'I think there's a problem with my husband,'" he said. "Many firefighters think it's a sign of weakness. Those of us in leadership positions are trying to change that idea."
Kupietz has concentrated his efforts in recent years on making sure individuals have opportunities to express the struggles they might be facing. "Talking has proven to be the best thing," he said. "Now when we come back from a bad call, we'll all sit together and eventually we'll start talking about what happened."
However, for fear of appearing vulnerable, Kupietz said it's common for firefighters to resort to a humorous tone as a coping mechanism during these debriefing sessions. This makes it all the more important for those in leadership positions to be tuned into the undertones of what's being said and identify who might need extra attention.
PTSD IS NEVER STRAIGHTFORWARD
For some, the source of their PTSD can be traced to a particularly difficult call, but the condition doesn't always stem from a single incident. All firefighters undergo elements of post-traumatic stress that are inherent in their line of work. Over a long period of time, a number of experiences can start to bank in their minds.
"When it starts interfering with the daily activities of the individual, then that can be an indication of something more serious," said Kupietz. "It can take just another straw to break the camel's back."
It's also impossible to predict who might be more at risk or how the condition might develop. For example, some might assume that firefighters in big cities are more at risk than those in small towns because they have more calls to run, but small town volunteer firefighters are just as likely to experience PTSD.
"They'll still run really bad calls, and every call they go on there's somebody they know," said Kupietz. "If Mrs. Smith is going into cardiac arrest and they're not able to save her, it's not just a stranger, it's Mrs. Smith who was their grade school teacher and now every day they have to see her daughter and that might be a trigger for pain."
RESLIENCE IS KEY
Whether it's suddenly losing a fellow firefighter or feeling the weight of stressful situations build up, dealing with painful emotions is a necessary part of the job for all firefighters. Giving them the tools to properly address and sort through these emotions is essential if they're to continue doing their job.
In addition to regular debriefing sessions, it's important to train firefighters to look out for signs, both in one another and their own selves, that someone is having a hard time.
"Fire officers should know that what's not being said is just as important for gauging the effect of a call on their crews," said Kupietz. "We have to teach resilience and how to keep stressors at bay so they don't affect daily life."
But how do you teach resilience? There's not a one-size-fits-all solution and the best thing you can do is understand the individuals you're working with, believes Kupietz. For some, making time for a walk or committing to a hobby might be important. For others, it might simply be spending time with their family or playing with their dogs after a difficult day.
"Everyone has their own outlet," said Kupietz. "We have to make sure we protect our own."