Wellness-focused station design
---
By Eric Becker
As a firefighter-turned-architectural designer, I am not only familiar with the elevated levels of stress and higher rates of PTSD experienced by firefighters, but also the evidence suggesting that a thoughtful approach to architectural design can play an important role in promoting mental and emotional well-being.
If you're a fire chief or member who is actively involved in the planning of a new fire station, it's important to consider how station design features and architectural strategies can help firefighters to better cope with the stress and demands of their job.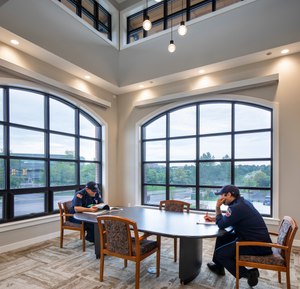 One idea: Include living room-style gathering spaces in the design. New fire station designs are intentionally incorporating a private living room-style gathering space, separate from the work environment, for firefighters to congregate socially or to spend private time with loved ones if on extended duty. The new South Metro Fire Station No. 32 in Centennial, Colorado, has an area like this on the second floor that's casually furnished so it feels more like home. The goal is to give firefighters a place to spend private time with loved ones to relieve the stress of separation, or to discretely address a family issue, emergency or crisis face-to-face.
Check out more ways to integrate firefighter wellness into station design..
[Read next: How to build a fire station (downloadable eBook)]