'You'll never fight fire again': A Texas amputee firefighter tells his comeback story
Just six months after losing his leg, and despite what surgeons had told him, Firefighter Gary Weiland was ready to get back on the job
---
In 2016, Denton (Texas) Fire/Rescue (DFR) Department Firefighter Gary Weiland had knee surgery, and for two years, everything seemed fine.
Then, in 2018, while playing football in the yard with his family and friends on Thanksgiving Day, his entire life changed without warning.
"I was literally running around the field, throwing a ball, and my knee started to swell up," Weiland said. "Then, I couldn't feel my foot."
His family rushed him to the hospital, where surgeons spent 15 hours attempting to restore blood flow to his foot, before telling Weiland they needed to amputate his leg.
The absurdity of the situation stunned him.
"My first thought was, 'I need my turkey,'" he said. "This is Thanksgiving, what are you talking about, cutting my leg off. I haven't even had Thanksgiving dinner yet."
A realized dream
Weiland's path to becoming a firefighter was not straightforward; he worked in retail for several years before deciding to enroll in the fire academy.
"I realized I didn't want to [work retail] for the rest of my life," he said. "I wanted to serve my community, but also wanted to do something that was active, and [firefighting] was a very good fit."
After quitting his day job, Weiland started working as a night shift forklift operator, allowing him to study during the day, despite the pay cut having an impact on his family, as well as the lack of a guarantee that he would be hired once completing the academy.
"[My family was] 100% supportive," Weiland said. "I wasn't sure how it was all going to work out, or if it would take five years to get on at a department, but I was willing to make that sacrifice and do what I had to do to ultimately become a firefighter."
He didn't have to wait long. Shortly after graduating, he was hired on at DFR, and his life seemed to fall into place.
"It was like a dream come true," Weiland said. "It was everything I thought it would be and more. The crews were amazing, supportive, challenging; it was great those first few months. I was nervous that I didn't know what I was doing, but all the guys jumped in and helped, without even asking."
Seven years later, that camaraderie and brotherhood would support Weiland in a different way, this time as he made the difficult decision to let surgeons amputate his leg.
Coming to terms
Despite his generally positive attitude, Weiland's first instinct was denial – surely, there was an easier solution than amputation.
"I did everything I could, because, in my mind, there's no reason why my foot didn't have circulation," he said. "I kept trying to wiggle my toes, bend my ankle, and I couldn't. That's a very, very strange feeling."
According to the doctors, slow-growing complications from Weiland's knee surgery in 2016 had manifested and eventually gotten to a point of no return.
"After much prayer, and talking to doctors and family and friends, it sunk in," he said. "I am going to have to amputate my leg. That was tough to swallow. I went from being a full-time firefighter – running around, playing any sport I wanted – to having my leg cut off."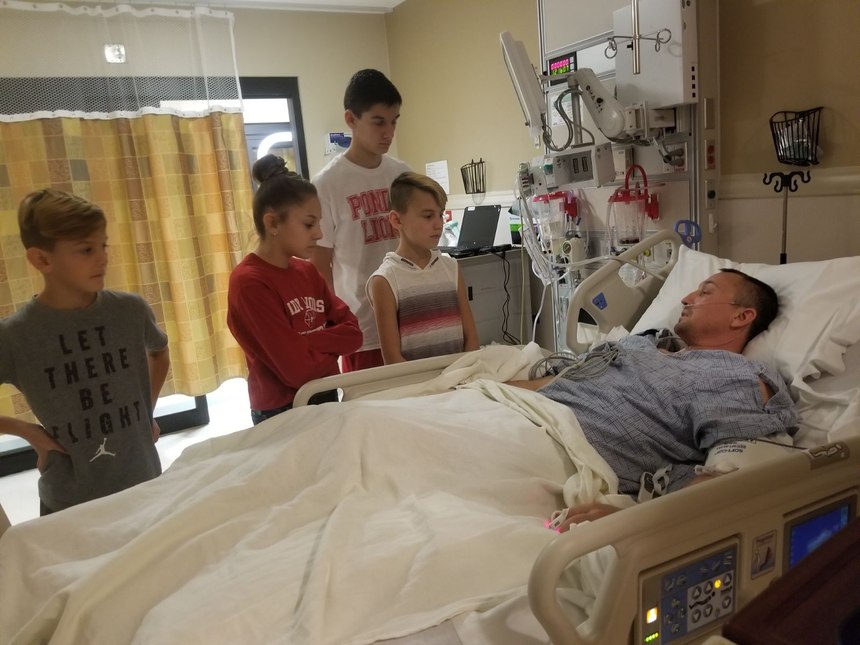 'You will never fight fire again'
Immediately after the decision to amputate was made, Weiland pivoted to the next big question: When can he get back on the job?
Perhaps never, his doctors told him.
"Most of the doctors told me, 'You will never fight fire again,'" he said. "They said, 'You need to find something else to do, because it's just not going to happen.'"
However, a visit from DFR Chief Kenneth Hedges helped Weiland get in the right frame of mind.
"He said, 'We got you, no matter what. You still have a job with our department,'" Weiland said. "That made me feel good and gave me confidence."
With his chief's words of encouragement fueling him, Weiland never actually took the doctors' predictions to heart. He refused to believe he would never again respond to a fire scene.
"I decided right then that I will be the first amputee firefighter," he said. "I decided that I was going to do it, and I didn't care what it would take or how it would happen. I had no idea how I was going to do it, but I just told myself, 'I'm going to do it. I'll be the first one.'"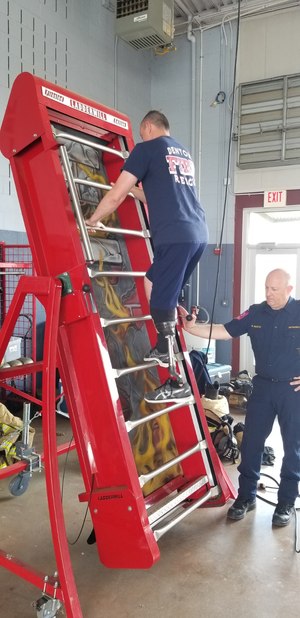 Getting back to the firehouse
In the weeks and months following his amputation, through research, Weiland realized there are already a dozen or so operational amputee firefighters working at departments around the country, so, while not the first, he would be joining an elite group, once on the job.
But first, he had to get there.
Within six months, Weiland was ready to go back to work, quicker than the DFR could even plan for.
"I pushed and trained and worked," he said. "I put myself through the wringer. I never had any setbacks. I was ready to go so fast that my department was like, 'Wait a minute, hold on.'"
DFR officials worked with Weiland to create a re-training schedule and incremental return to full-time status, to ensure his return was successful.
"I wanted to work through as many scenarios as I possibly could because, as firefighters, we don't know what position we're going to find ourselves in," Weiland said. "For the next few months, whether I was on duty or off duty, I was training, working and doing whatever I could to make sure that I could get back."
How did Weiland feel that first day back on the job? Relieved.
"I was back on duty. This is my job. This is what I do. It's no big deal," he said of returning. "I'd already put myself through the training and put myself to work. Here I am, now I can move forward and just do my job."
Looking forward
Since his amputation and subsequent return to work, Weiland has also been staying active through competitive sports. He recently joined the Team USA High Performance sitting volleyball team and hopes to make it to the 2020 Summer Paralympics in Tokyo.
Weiland has also been a media sensation, appearing in several newspapers, magazines and local broadcasts to talk about his incredible rehabilitation. Thanks to the attention, dozens of people have asked to speak and meet with him as they battle their own medical journeys.
His answer is always "yes."
"I would not have said this 10 months ago, but this happening to me is a gift, and I'm going to use it to help other people," he said. "This takes a toll on the body – physically and mentally. What I've told people is, 'Hang in there, there is light at the end of the tunnel.' The mindset is the biggest hurdle, it's 80% of the battle, knowing you're going to get through this."
Above all, he wants to serve as a reminder to others, especially children, that despite an amputation or limb difference, they can do big things.
"I want them to feel like they can do anything and be anything they want; I'm living proof of that," he said. "If I can be a full-time firefighter, you can do anything you want. What's more difficult than that?"