Free course to educate firefighters on cancer prevention techniques
FireRescue1 and FireRescue1 Academy Partner to Provide Training
Missed this free course? Follow FireRescue1 Academy on Facebook to stay updated on all of our upcoming events, free courses, and more!
Firefighters have a 9 percent higher risk of being diagnosed with cancer than the general U.S. population, and studies have shown that that the risk of certain cancers is increased the longer they spend working in the fire service. To mitigate their exposure, firefighters and fire officers must take steps to protect themselves by wearing their personal protective equipment (PPE) in the proper way and at the right times.
It's with that in mind that FireRescue1 and FireRescue1 Academy are partnering to offer a free 1-hour online course, Firefighter Cancer: Prevention and Health, available through January 31. Tailored for both department leadership and firefighters themselves, the course is designed to help individuals: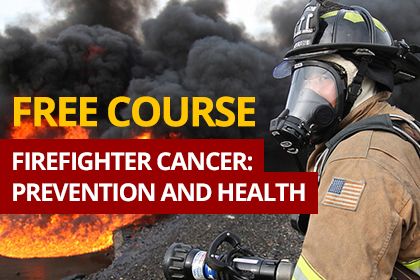 Identify the common cancer-causing agents firefighters face.
Recognize the rising prevalence of firefighter cancer.
Apply the current best practices suggested by leading departments of proper PPE usage and decontamination to reduce exposure to carcinogens.
Implement tools and strategies for reducing exposure to cancer-causing agents for both individuals and leadership at the fire station level
Summarize what steps to take after a cancer diagnosis.
COMPLETE THE FORM BELOW FOR ACCESS