Free course to Educate Firefighters on Mental and Emotional Health
FireRescue1 and FireRescue1 Academy Partner to Provide Free Training
Missed this free course? Follow FireRescue1 Academy on Facebook to stay updated on all of our upcoming events, free courses, and more!
In a 2018 survey, 65% of firefighters said they are haunted by memories of bad calls and 19% said they have thoughts of suicide. Although a fire service career can be enormously rewarding, it is also emotionally and mentally demanding. Firefighters must be aware of the trauma that untreated job stress can have, feel empowered to seek assistance and have access to appropriate behavioral health resources.
With that in mind, FireRescue1 and FireRescue1 Academy are partnering to offer a free 1-hour online course, Mental Health and Wellness for Firefighters, available through May 31. Tailored for both department leadership and firefighters themselves, the course is designed to help individuals: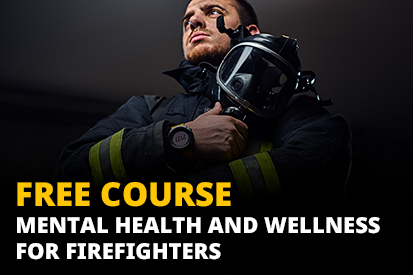 Explain the signs and symptoms of cumulative stress, depression, anxiety, and other mental health issues firefighters face.
Describe the stigmas surrounding seeking mental health assistance for first responders in order to combat and overcome them.
Apply techniques for handling stress to better one's mental health and wellness.

Complete the form below for ACCESS