CAL FIRE faces potential furloughs, pay cuts
California Gov. Gavin Newsom has planned a 10% pay cut for all state workers and reduced spending that could result in firefighter furloughs
---
Wes Venteicher
The Sacramento Bee
SACRAMENTO, Calif. — The president of the California state firefighters' union was briefly thrilled when Gov. Gavin Newsom announced plans two weeks ago to hire 600 people to boost Cal Fire's ranks.
Then he found out Newsom's administration planned to make a 10 percent cut to state workers' pay, including for firefighters.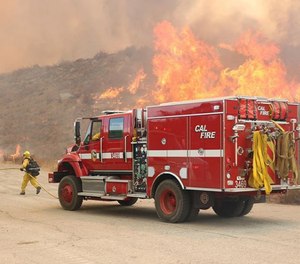 "Our members, men and women, have been on the front line protecting the state through this whole thing, putting their families at risk, and they really believe this is a slap in the face," said Tim Edwards, president of Cal Fire Local 2881.
Newsom called for all state workers, including him and his staff, to take pay cuts to help reduce spending in the face of a projected $54 billion budget deficit. The reductions likely will include furloughs for many state workers.
Yet for the understaffed firefighting force, furloughs would mean an increase in overtime, Edwards said.
"You take a firefighter off, you have to put a firefighter back on the engine at time and a half," he said.
State agencies that operate on a continuous basis, including Highway Patrol, the corrections department, state hospitals and the fire department, depend on overtime. Furloughs could increase overtime spending at those departments, depending on how they are implemented.
The Department of Human Resources, which manages the state's collective bargaining with unions, declined to comment while bargaining is underway.
Firefighters and Highway Patrol officers were exempt from former Gov. Arnold Schwarzenegger's furloughs, which reached three unpaid days per month during the Great Recession.
Newsom's administration has insisted on across-the-board pay cuts this time, and is negotiating the reductions with the unions in advance of a June 12 deadline.
While the administration is looking for 10 percent reductions from every bargaining unit, it expects its agreements will vary depending on the situations for different groups of workers, a Department of Finance official said in a Senate budget hearing last week.
The Department of Forestry and Fire Protection spent about $207 million on overtime in 2018, which is about 25 percent of what it spent in wages for the year, according to the most recent State Controller's Office data.
Firefighters have overtime built into their schedules. Cal Fire firefighters work 72 hours straight when they are not fighting wildland fires, responding to calls from firehouses. Those shifts include 19 hours of overtime per week under federal labor law.
On wildland fires, firefighters work 14 days in a row before taking 24-hour breaks. Edwards has pushed to expand the state's firefighting force so that firefighters on the wildland lines could spend a few days with their families between shifts.
Overtime accounted for 11 percent to 13 percent of total pay for the Department of State Hospitals, the Department of Corrections and Rehabilitation and the Highway Patrol, according to the data. The total statewide average was about 7 percent.
Firefighters and Highway Patrol officers eventually did accept pay cuts during the Great Recession under agreements with former Gov. Jerry Brown.
The reductions were made through personal leave programs, which reduced workers' pay by the equivalent of a furlough day in exchange for a leave day they could use when they wanted to. One unpaid day per month saves the state about 4.6 percent.
Few firefighters were able to use their leave days due to short staffing, Edwards said. The union ended up giving up banked days as part of a deal for a pay increase in its last round of bargaining, he said.
"We don't have that luxury to even talk about furloughs," he said. "That only leaves pay cuts for us."
The Legislature has the authority to reduce state workers' pay without furloughs, but furloughs have been the standard in the past.
A 10 percent pay cut would drop entry-level firefighters' pay to $12.17, below the state's minimum wage of $13 per hour, Edwards said.
The California Association of Highway Patrolmen's contract protects officers from furloughs and mandatory personal leave programs through June 2021.
Highway Patrol officers' pay is also calculated differently than other state workers. It's based on surveys of peace officer pay in large California cities, a mechanism that is set in California code. The union declined to discuss how Newsom's pay cut proposal would affect officers while bargaining is underway.
The California Correctional Peace Officers' Association has furlough protections in its current contract, but the contract expires in July, when Newsom's pay cut proposal would take effect.
The correctional officers union did not respond to a request for comment.
———
©2020 The Sacramento Bee (Sacramento, Calif.)
McClatchy-Tribune News Service