2 Pa. firefighters die after battling house fire where a person was found dead
"Numerous maydays were given," a trooper said, before Firefighter Marvin Gruber and First Assistant Chief Zachary Paris of the Community Fire Company were transported
Duty Death: Marvin Gruber and Zachary Paris - [New Tripoli, Pennsylvania]
End of Service: 12/07/2022
---
By Daniel Patrick Sheehan
The Morning Call
SCHUYLKILL COUNTY, Pa. — The firefighters who died battling a blaze in Schuylkill County on Wednesday have been identified by state police as Marvin Gruber, 59, and Zachary Paris, 36, members of the Community Fire Company in New Tripoli.
The men were pulled from the fire at a house in West Penn Township near Tamaqua and taken to St. Luke's Hospital Miners Campus in Coaldale, where they were pronounced dead at 6:10 p.m.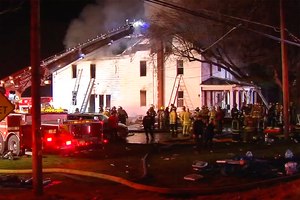 Another person was found dead of an apparent self-inflicted gunshot wound in the woods behind the house at 1121 Clamtown Road. Initial reports said it was a resident of the house but state police said the person's identity was under investigation.
A neighbor, Joseph Fritz, said he's known the family in the house for many years. The father died last year and the mother several years earlier, he said. Their son, who had a long-term disability, continued to live in the house and a daughter may also have been living there.
The son is a quiet but friendly man, Fritz said.
"I go by a lot and see him and he waves," he said. "He never bothered anybody."
Firefighters responded around 4 p.m. to a report of a house fire with entrapment. While they were searching the house, "numerous maydays were given," according to Trooper David C. Boehm, public information officer for Troop L.
Three fire marshals were investigating the blaze, Boehm said during a news conference at the scene Wednesday night.
Paris was the first assistant chief of the New Tripoli fire company and a firefighter in Frederick County, Maryland. According to a Facebook post from the Career Firefighters Association of Frederick County, Paris joined the Frederick County Division of Fire and Rescue Service in February and was assigned to the Green Valley Fire Station. Paris had a wife and two young daughters, the post says.
According to the Northampton Community College website, Gruber was the assistant chief of the school's department of public safety.
Gruber is among the firefighters featured in a department recruitment video.
"I enjoy mentoring the newer team members and helping them be a part of our fire team," he says.
First-response agencies across the region posted condolences on social media.
"These brave men encountered intense fire and succumbed to the conditions while trying to perform a rescue of a citizen. Their sacrifice will not be forgotten," said a Facebook post from Allentown EMS.
The Lehigh Township Volunteer Fire Company wrote: "Assistant Chief Zachary Paris and Firefighter Marvin Gruber from New Tripoli Fire Dept gave the ultimate sacrafice. Our thoughts and prayers go out to the family , friends and fellow firefighters to these 2 heros. Godspeed brothers."
©2022 The Morning Call.
Visit mcall.com.
Distributed by Tribune Content Agency, LLC.
McClatchy-Tribune News Service