Conn. community mourns sudden loss of veteran firefighter
North Haven Firefighter Anthony DeSimone collapsed while walking into his home after completing a 38-hour shift
Duty Death: Anthony DeSimone - [North Haven, Connecticut]
End of Service: 08/24/2023
---
By Richard Chumney, Staff Writer
The Hour
NORTH HAVEN, Conn. — Colleagues and town officials are mourning the loss of firefighter Anthony DeSimone, a 23-year North Haven Fire Department veteran who died Thursday after suffering a medical emergency after completing a 38-hour shift.
"Anthony was one of the pillars of the community and a part of the fabric of North Haven," said Pasquale Nuzzolillo, chairperson of the board of fire commissioners, which oversees the department. "He was a person who would always be willing to step up and volunteer to do whatever was necessary."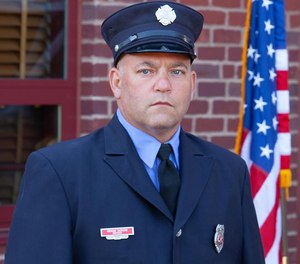 Nuzzolillo described the 50-year-old husband and father of two as a dedicated public servant who devoted his free time to supporting local civic organizations, including the Knights of Columbus and the North Haven Little League.
Nuzzolillo noted that DeSimone was in line for a promotion before his death. The full-time firefighter and EMT recently passed a key test and was about to receive the rank of lieutenant, Nuzzolillo said.
One of the best examples of DeSimone's selflessness, Nuzzolillo said, was when he took on the responsibility of serving as the liaison between the department and the family of the late Matthias Wirtz, a North Haven firefighter who collapsed and died last December while fighting a blaze.
[RELATED: WTC responder dies after mayday call at scene of Conn. house fire]
"He has touched many people in the town of North Haven, whether it be as a firefighter in their worst moments of need or by just being out there and meeting people in a restaurant, shaking hands and embracing folks," Nuzzolillo said.
According to the fire department, DeSimone suffered a medical emergency after completing a 38-hour shift at the fire station on Thursday. He had been relieved from duty around 6 p.m. and collapsed while walking into his home a couple of hours later. He was later pronounced dead at Yale New Haven Hospital.
The Uniformed Professional Fire Fighters Association of Connecticut, a union representing firefighters across the state and an organization DeSimone once led as president, said in a statement that DeSimone died following a cardiac-related incident.
"We ask that you keep the family of brother DeSimone and the members of the North Haven Fire Department, Local 2987, in your thoughts & prayers during this difficult time," the union said in a message to members.
DeSimone's passing has triggered an outpouring of support from North Haven residents and coworkers who knew the longtime firefighter. In a statement, the Northeast Volunteer Fire Association, an organization where DeSimone got his start as a volunteer firefighter, called his death a "tremendous loss."
"Anthony was an active member of the NEVFA for over 35 years and served as an active company member for many years," the association wrote.
Local elected officials also paid tribute to DeSimone. First Selectman Michael Freda wrote on Facebook that North Haven will never forget the longtime firefighter, and state Rep. Dave Yaccarino, who described DeSimone as a close friend, praised him for his unwavering service to the town.
"In my 13 years serving North Haven, Anthony was an invaluable resource to me as a legislator and a proud representative of the public safety and fire service communities," Yaccarino said. "I cherish our fond memories together — from him leading me in CT Fire Operations training in 2014 to many visits to our State Capitol, most recently in June 2023 for Fire Service Day."
(c)2023 The Hour (Norwalk, Conn.)
Visit The Hour (Norwalk, Conn.) at www.thehour.com
Distributed by Tribune Content Agency, LLC.
McClatchy-Tribune News Service