Ind. firefighter dies from COVID-19
Terre Haute Firefighter John Schoffstall, 41, died early Sunday morning; he had served with the fire department for more than a decade
Duty Death: John Schoffstall - [Terre Haute, Indiana]
End of Service: 04/12/2020
---
Alex Modesitt
The Tribune-Star, Terre Haute, Ind.
TERRE HAUTE, Ind. — The Terre Haute Fire Department is mourning the death of one of its firefighters, a near 12-year veteran of the department who passed from COVID-19 complications.
John Schoffstall, 41, died about 3 a.m. Sunday morning at Union Hospital, Terre Haute Fire Chief Jeff Fisher confirmed.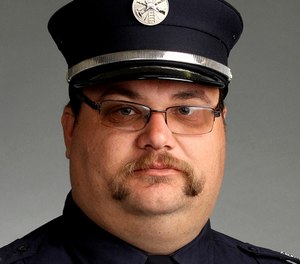 Schoffstall was assigned to Station 5, C-shift, and worked as part of the support truck crew.
Fisher said he is at a loss for words after losing a firefighter he knows meant so much to so many as a husband, father and friend.
"I'm kind of at a loss for words because I was not prepared for this," Fisher said. "John's condition had been improving and we were hoping for a different kind of parade."
Fisher and his department weren't alone in wishing Schoffstall well.
Since the firefighter fell ill with the virus, department members and community supporters gathered nightly in Union Hospital's parking lot to pray for Schoffstall's recovery. The prayer services often featured a few dozen passenger cars and another 10 or more fire apparatuses from area fire houses.
"He will be sadly missed, but his memory will live with the department for a long time," Fisher said.
Fisher said travel and gathering restrictions as they are, the department will work to provide Schoffstall "the best, most proper send off as we can."
As word of Schoffstall's passing spread this morning, posts mourning the firefighter's passing flooded social media.
Terre Haute Police Department public information officer Ryan Adamson and ISP Sgt. Matt Ames took to Twitter in separate posts to offer condolences to the Schoffstall family and THFD.
The Professional Firefighters Union of Indiana, IAFF Local 4416 and Richland Township Fire Department in Madison County, Indiana, have also extended condolences.
———
©2020 The Tribune-Star (Terre Haute, Ind.)
McClatchy-Tribune News Service