Kan. firefighter dies from injuries sustained in structure fire
Josh Haynes began his career as a volunteer firefighter at the age of 18, and served Pleasanton and the surrounding communities for 17-plus years
Duty Death: Joshua Haynes - [Pleasanton, Kansas]
End of Service: 06/22/2022
---
LINN COUNTY, Kan. — The Linn County firefighter who was critically injured in a Monday night blaze succumed to his injuries on Wednesday.
Josh Haynes sustained the critical injuries while fighting a fire at Carpenter Chiropractic. 
KAKE reported that Haynes began his career as a volunteer firefighter at the age of 18, and served Pleasanton and the surrounding communities for 17-plus years.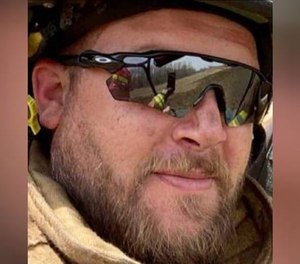 Several members of the community have put up black and red ribbons to show their love and support for Haynes' family, according to KCTV.
ATF officials are investigating the cause of the fire.
Original report: Tuesday, 3:27 p.m. PT
By Leila Merrill
PLEASANTON, Kan. — A Kansas firefighter was seriously injured Monday night while battling a fire at a chiropractor's office.
Josh Haynes, 35, was pulled out of the building by other firefighters, KMBC reported.
He was transported by air ambulance about 70 miles north to the University of Kansas Health System, KSHB reported. Haynes was listed in critical condition.
The Pleasanton and Linn County Rural volunteer fire departments both responded.
"It touches home for a lot of people," said Kenny Stark, a friend of Haynes' who witnessed the fire. "He grew up in this town and everybody knows him. He's one of the first people I got to know when I first moved to Pleasanton."
The Kansas State Fire Marshal asked the Bureau of Alcohol, Tobacco, Firearms and Explosives's Kansas City office to assist with the investigation. Foul play is not suspected.