Okla. fire officer dies after lengthy battle with COVID-19
Oklahoma City Fire Department Maj. Andy Davis first began experiencing symptoms on Dec. 11 and was hospitalized on Dec. 16 before passing away on Christmas Eve
Duty Death: Andy Davis - [Oklahoma City, Oklahoma]
End of Service: 12/24/2020
---
By Rachel Engel
OKLAHOMA CITY — An Oklahoma City Fire Department officer died on Christmas Eve after a lengthy battle with COVID-19. 
Maj. Andy P. Davis, a 20-year veteran of the OKCFD, first began exhibiting symptoms on Dec. 11 and was hospitalized on Dec. 16 before dying on Dec. 24, The Oklahoman reported.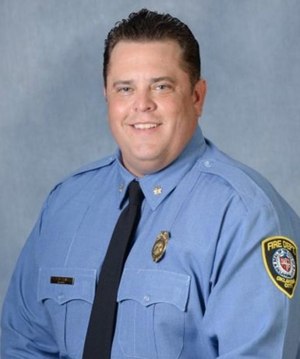 Davis had a strong family connection to the fire service in Oklahoma. He was the son of retired Capt. Johnny Davis, brother to Deputy Chief Tony Davis and Major Scott Davis, and uncle of Cpl. A.J. Davis. 
"Andy was fun-loving," Chief Richard Kelley said at a news conference on Monday. "He was a joy to be around as he always had a funny story or one-liner to get a laugh. He was the type of firefighter you always wanted on the incident scene because you knew he would always get the job done."
Davis is survived by his wife, Lisa, and four children: McKenzie, Gracie, Gabe and Beau.
Davis' nephew, A.J., was the first member of the OKCFD to receive the COVID-19 vaccination on Saturday, just two days after his uncle died from the virus.