NFPA: 2017 LODD report is lowest in over 40 years
A total of 60 U.S. firefighters died in the line of duty in 2017 – a number that represents the lowest total since 1977
---
By FireRescue1 Staff
QUINCY, Mass. — The National Fire Protection Association released the lowest U.S. firefighter fatalities report in over 40 years, with a total of 60 on-duty deaths reported in 2017.
According to a press release, the number of deaths is the lowest reported since 1977 and is the sixth time in the last seven years that the total has been below 70.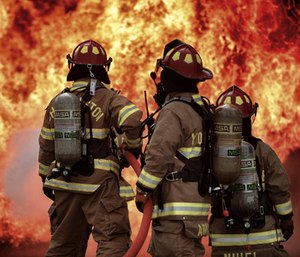 The report said that 17 deaths occurred at the fire scene, representing the second-lowest number of fireground deaths since the study began. It is also the second year in a row that the number has been below 20.
"Many of the all-time or near lows we saw in 2017 reflect a continuation of declining firefighter fatality rates in the U.S.," Rita Fahy, manager of fire databases and systems, said. "At the same time, we found some unexpected shifts in terms of when and where deaths are occurring."
Ten firefighters died after being struck by vehicles in 2017, which is a much greater count than the average of four annual deaths in the past 30 years.
"This is very different from what we usually observe in a year. Only twice before has the total been 10 or higher," Fahy said.
More than half of the 2017 deaths were caused by overexertion, stress and medical issues, with 29 of the 32 deaths of this kind being cardiac-related.
Fahy added that the decline in deaths is encouraging, but it's important to remember that the report only reflects on-duty fatalities.
"This report only reflects deaths that occur while victims are on-the-job, either as the result of traumatic injuries or onset of acute medical condition," she said. "Studies have shown that years spent in the fire service can take a toll on a firefighter's health, both physical and emotional, and can also result in exposures to toxins that eventually result in job-related cancer that are not represented in this report."
Firefighter Fatalities in the United States- 2017 by Ed Praetorian on Scribd