Mass. firefighter union endorses Rep. Joe Kennedy for Senate
The union highlighted Rep. Kennedy's support of first responders and his work during the COVID-19 pandemic
---
By Rachel Engel
SPRINGFIELD, Mass. — The Professional Fire Fighters of Massachusetts union has endorsed U.S. Rep. Joe Kennedy III (D) for the U.S. Senate.  
A video released by the PFFM earlier this week depicts Kennedy's stance and support of first responders and his work during the COVID-19 pandemic, according to MassLive.com.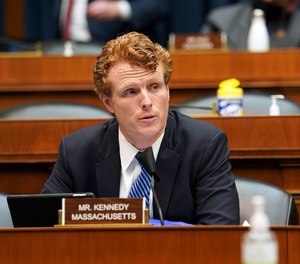 "During this crisis, no one has stepped up like Joe Kennedy," PFFM President Rich MacKinnon Jr. said in the video. "Whether raising money for frontline workers or delivering masks for our firefighters, Joe has shown us the kind of senator he will be." 
Kennedy is vying for the seat occupied by Sen. Ed Markey, and polls currently reflect a tight race.  
"You are heroes who risk your lives every day," Kennedy said in a statement following the PFFM endorsement. "When you leave home to head to the fire station, your hug to your children and your kiss to your significant other could be the last one." 
Kennedy promised support for fire service funding in his statement.  
"Fighting for your right to collective bargain, SAFER Grants and Assistance to Firefighter Grants have never been more important," he said. "I am honored to have your support in this race and will continue to be in your corner every step of the way." 
In 2019, the International Association of Fire Fighters endorsed former U.S. Vice President Joe Biden for president in the 2020 presidential election, stirring considerable debate.