Iowa city aims to increase staffing to combat 300% increase in FF injuries, $350K OT costs
The Ottumwa City Council appears ready to alleviate stress on the fire department after several positions were cut just two years ago
---
Chad Drury
Ottumwa Courier, Iowa
OTTUMWA, Iowa — Josh Chance and Cory Benge painted the grim picture taking place inside the Ottumwa Fire Department.
Overtime pay? Up. Injuries to firefighters? Increased over 300% since 2020. Emotional issues and burnout? Up.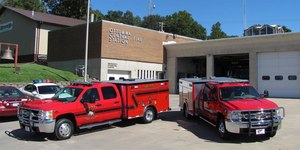 Now, because of improved fiscal health in the city and the rising costs and consequences of a short-staffed fire department, the Ottumwa City Council appears ready to alleviate the stress to one of its most popular public services.
During a work session at Tuesday's special council meeting at City Hall, a consensus was building among city staff and council members to hire three full-time firefighters to offset the costs of overtime and cut down on staffing issues. Almost two years ago, the city cut six firefighters to get its finances in line. Times have changed, however, prompting a push to increase the personnel in the department.
"We are still trending with a balanced budget this year, but the largest expense we're over budget on in the general fund is firefighters overtime," said city finance director Kala Mulder, pointing out in a presentation that the city is on pace to pay out over $350,000 in OT this fiscal year. "If we go above budget in our general fund by that much, then there are other decisions we'll have to make.
"But it's way more cost-effective for us to hire three firefighters."
City administrator Philip Rath also stated his desire to hire firefighters because it will help reduce overtime pay. However, he also noted that the city needs to continue to bring in revenue to the general fund.
"Overtime is definitely one of those things we don't want to have to pay," he said. "Hiring three firefighters will definitely eat into that overtime, but the general fund covers a lot of other things and we're still tapped out there.
"I'm just floating this out there, but what I'm seriously working on to bring forward are franchise fees," Rath said. "It's a way to bring in some additional revenue, and public safety is one of the seven or eight things that is an eligible revenue source."
When the city cut firefighters in 2020, overtime pay increased almost seven times the next fiscal year, and is on pace to increase by another one-third this fiscal year. Hiring three firefighters would cost about $264,000 for salary and benefits.
Chance said three firefighters are currently injured and unable to work, which also affects overtime.
"The overworked schedule is having measurable effects on our firefighters," said Chance, a 15-year veteran of the department and also the firefighters' local union president. "I've noticed for myself that I've been more irritable, snapped at loved ones, etc.
"I'm not able to see as much of my kids' activities, and it breaks my heart," he said. "If you talk to 23 other firefighters, you'll get 23 similar stories."
Benge, the deputy fire chief, said the firefighters "could be making a lot more money doing something else," but they don't want to.
"They like what the do. They like their schedule, but those days off are pretty important when it comes to spending time with their family, or just not being at work," he said. "We've never forced anyone in, but they take care of each other. They're a brotherhood."
When the council took the vote to cut public safety, council member Matt Dalbey said, "I'm not going to describe what kind of sandwich we were eating at that time, but we had to take a look at it and take a bite at it."
He also said the council needed to live up to its word after taking that painful vote to cut public safety personnel.
"We had a consensus as a council and a city at that time to bring those levels back up when we could," Dalbey said. "We knew this day would come. We should make good on those commitments we make, not only for us, but for who the fire department and police department serve. And as a way to thank the taxpayers and public that showed support during that time."
Dalbey called for a resolution at next week's regular council meeting to hire "no less than three" firefighters as soon as possible.
"I don't think we need to wait on this," he said. "This has to happen now."
Council member Marc Roe said the vote in 2020 was "strictly a financial decision based on the best knowledge we had." He also concurred with Rath that overtime will be inevitable regardless if firefighters are hired.
"Overtime can be healthy, but there is a time where it becomes catastrophic, and we've tipped that scale now," he said. "We also have an aging firefighter force. In a few years we're going to be looking at new firefighters. We have no succession planning if we don't do something at this point."
___
(c)2021 the Ottumwa Courier (Ottumwa, Iowa)
McClatchy-Tribune News Service