Report: Calif. firefighters injured in wildfire followed residents
---
By Allison Hoffman
The Associated Press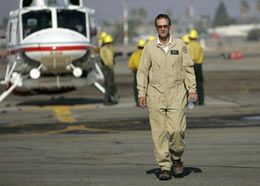 AP Photo/Lenny Ignelzi
Helicopter pilot Mike Wagstaff was credited with saving four firefighters in the daring rescue.
SAN DIEGO — An inferno exploded a fire engine's windows, forcing firefighters to take cover behind boulders after they followed a man and his son back to their burning mobile home during last month's wildfires, state authorities said Thursday.

Thomas Varshock was killed and his teenage son and four firefighters were severely burned in the episode, which happened two hours after the Harris Fire erupted Oct. 21 near the rural town of Potrero, about 40 miles east of San Diego on the Mexican border.
The California Department of Forestry and Fire Protection's preliminary report offers the most detailed official account of events that led to a dramatic helicopter rescue.
Varshock, driving a white pickup truck trailed by his son's all-terrain vehicle, asked firefighters to check on his house as they headed toward threatened homes and told them there were people in another home nearby, the report said.
A fire captain told Varshock to get out of the area, but he and his son followed the engine back down the dirt road. Firefighters met thick smoke but kept going after Varshock told them there was water and a good place to turn around near his ridgetop house.
The Varshocks joined firefighters in the engine cab because their vehicle stalled. Flames licked the side of the fire engine when they arrived at the home. The engine didn't have enough room to back out of a small clearing and stopped running.
At that point, the report said, the heat exploded the passenger windows of the engine cab. Three firefighters took cover with Varshock's son in a rocky area nearby, where they began sending radio distress calls that alerted the helicopter pilots above.

A fourth firefighter ran the other way after being overtaken by wind-driven flames. He was found about 40 minutes later behind a different rocky outcropping.
One firefighter remains in a medically induced coma and two others are being treated at UCSD Medical Center in San Diego. The fourth firefighter has gone home.
Varshock, 52, was killed at the scene; his body was found next the fire engine. His son was critically burned and remains at the hospital.
The report did not indicate if other residents were nearby as Varshock told firefighters.
The department said it will review how firefighters respond to information provided by residents and how they decide which homes to protect. A final report may take months to complete.
The fires directly killed eight people, destroyed about 2,200 homes and burned more than 500,000 acres. Seven other deaths involving evacuees fleeing the blazes have been indirectly linked to the fires.