Family counseling: Keeping bonds strong
First responder families face unique stressors, which can be overcome with the help of a professional family counselor
---
This article is featured in the magazine, Rebuilding Resiliency: A Treatment Guide. This free publication provides in-depth information to help first responders and their families better understand treatment options so they can remain strong and resilient.
By Dr. Marie Isom, faculty member, American Military University; and Teresa Chambers, academic advisor, American Military University
First responder families face significant challenges. When a parent or spouse is a first responder, they often work long shifts and odd hours. The work itself is highly demanding and stressful. These pressures can take a toll on the family unit, causing strain on marriages and parent-child relationships.
How stress affects first responder families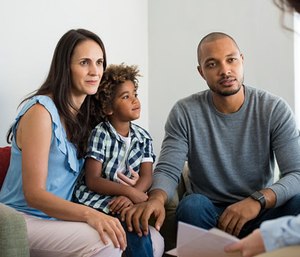 Many first responder family members fear that their loved one may be retaliated against or harmed because of their profession. This stress and worry can be especially detrimental to children. While childhood is a relatively short time period in an individual's life, what happens during this impressionable time can have life-long effects.
Marriages can also be damaged. Shift work and long hours can cause disconnect between partners. A first responder's spouse may feel like a single parent who has to handle all the home and family responsibilities. When the first responder is home, they are often unavailable because they need time to decompress and rest for their next shift. Those who are required to be on-call are never really "off" work and aren't able to give their undivided attention to their spouse and family.
For all these reasons, every first responder family should consider enlisting the help of a professional family counselor. Family counseling is unique in that it provides the opportunity to address issues impacting cohesion among family members as opposed to addressing an individual's needs within the family.
Benefits of family counseling
During family counseling, several members of the family meet with a counselor at the same time, which allows the counselor to observe family dynamics. The counselor can also provide mediation, when appropriate, to help individuals share their perspective and feelings.
Children can particularly benefit from family counseling. Many children have feelings of abandonment and parent-detachment issues, as well as fears of parental injury. They also have to cope with inconsistent schedules and changing routines. Children absorb parental responses to situations and they observe parental discourse, so counseling can help them better understand what's happening around them in the home. For example, if there is tension between parents or one parent is experiencing high levels of stress, children can also start feeling tense or stressed out. In addition, if a parent doesn't cope with stress in a healthy way, they could be inadvertently teaching children unhealthy coping strategies.
Family counseling can help with these issues by teaching the entire family to better communicate and understand one another. A family counselor can provide family-friendly techniques to help with stress management, healthy coping techniques, enhanced communication skills and better time management.
Family self-care strategy: take a mindfulness walk
Families navigating stressful careers can benefit from family activities that focus on self-care. One specific activity families can do together is a mindfulness walk. The following steps will guide you through the process:
Choose a place to take a walk together, even if it's in your own neighborhood.
Walk in silence at a gentle pace, no talking.
Each family member should focus on their body and the sensations they feel. How do your legs feel with each step? Your feet? Are they light and relaxed or heavy and tense?
Engage your hearing by listening for the quietest sounds (your own breathing, wind rustling in the trees, leaves crunching under your feet, etc.).
Focus on being in the moment. If you begin thinking, worrying or planning things, pause for a moment and refocus on body sensations and listening for those quiet sounds.
As your family practices taking mindfulness walks, it is okay to stop and refocus a few times. The purpose is for each family member to be present in the moment and focus on his/her body sensations and/or sounds they hear in the environment. After the walk, your family can spend time talking about the experience and processing what changes they noticed in their body and mind. This simple activity allows families to spend some peaceful, quality time together to reconnect.
In addition to working with a trained counselor, a number of agencies are dedicated to supporting responders and their families including:
First responder families face unique needs and challenges. Through open communication, positive coping strategies and commitment, first responder families can overcome obstacles to be a strong and healthy family unit.
About the Author
Dr. Marie Isom is an associate professor of school counseling at American Military University. She earned a B.S. in Psychology at Central Michigan University, an M.A. in School Counseling at Marymount University and an Ed. D. in Counseling Psychology at Argosy University/Phoenix. She is a National Board-certified K-12 professional school counselor, National-Board certified counselor, career development facilitator, approved clinical supervisor and licensed clinical professional counselor. She specializes in counseling and therapy with children, adolescents and families.
Teresa N. Chambers, M.Ed., is an academic advisor with American Military University. Teresa is a recent graduate of American Military University's School Counseling Program. Teresa is also currently enrolled in Liberty University's Ed.D. in Community Care and Counseling: Traumatology.
To reach the authors, email IPSauthor@apus.edu. For more articles featuring insight from industry experts, subscribe to In Public Safety's bi-monthly newsletter.