Mobile casualty management: Island Software's MCI Triage
iPhone app designed to provide incident management on the fly
---
By Scott M. Bruner
FireRescue1 Product Editor
The most recent addition to the iPhone store for emergency responders is Island Software's MCI Triage, an app designed to assist in managing mass casualty incidents. The application based on the Simple Triage and Rapid Treatment (S.T.A.R.T.) system, developed to evaluate victims in a mass casualty incident in 1983.
MCI Triage is specifically designed for EMS, firefighters and law enforcement.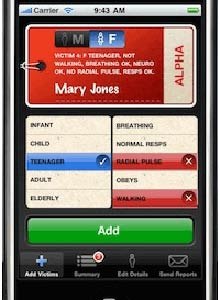 MCI Triage is able to make instant calculations of different triage categories and provides information on which color code to use and to record a patient's condition, age, gender, and location. It uses several application "tabs" to input and retrieve data quickly.
In addition to calculating the patient's triage category (Alpha, Bravo, Delta or Echo), the application categorizes victims into age and sex categories. The application can also handle names and brief descriptions of individuals. Each person's location is automatically recorded us the iPhone's built-in GPS system.
MCI Triage's Summary tab is able to quickly provide a full report from the recorded data. It lists how many total victims there are, and how many fit into each of the categories it can record. All the details from the incident and an Incident Summary can be e-mailed using the iPhone's e-mail software to emergency dispatch or incident control.
Incident commanders can use the incoming data to make decisions about handling the emergency. The Incident Summary can also be sent via SMS to one of multiple mobile phone numbers.
MCI Triage is able to guide responders through the process of using the application in order to ensure the data remains consistent and can be transferred efficiently, and accurately, to incident command.
MCI Triage was developed by Island Software. Island Software develops applications for emergency services and disaster management. They are the makers of vGate, a Web-based volunteer management application. You can find MCI Triage in medical section of the iPhone store at http://itunes.apple.com/us/app/mci-triage/id355467271?mt=8.

Request product info from top Fire Data Management companies
Thank You!