The Blackjack Global Helmet Light Mount Kit Launched at Interschutz 2010
Leipzig, Germany – 1445 Designs Inc., announces their new patent pending Global Mount Kit has been launched at Interschutz with nothing but praise after the first two days of the show. The Global Mount Kit was created by 1445 Designs, the maker of the Blackjack Flashlight Holder to serve the fire service beyond North America.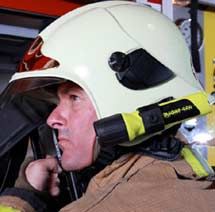 Chris McCorkle, President of 1445 Designs and a veteran Phoenix, AZ Firefighter says, "The Blackjack has grown to be the most durable and safest light mount available today due to the support of our customer base, my fellow firefighters. I am proud to enter the global market with the Global Mount Kit that will provide a solution to the fire service worldwide. The Global Mount Kit will work on a variety of helmets used in Europe and Asia but will still offer the low profile, lightweight and easy mounting system that all of our products offer. The Global Mount Kit also has the ability to be removed from the helmet so it can be used as a hand held light and then reattached to the mounting system which is the first ever of it's kind." The new kit is being launched this week at Intershcutz in Leipzig, Germany through Streamlight.

About 1445 Designs Inc.
1445 Designs is a Phoenix based company started by a veteran Phoenix firefighter in 2004. The company was started to satisfy the need of providing a safe, tough and durable flashlight mount for the fire service after years of personal frustration. Over 50,000 units have been sold worldwide and the Blackjack is now standard issue for many large fire departments such as Honolulu Fire, Phoenix Fire and Baton Rouge Fire. For more information about the Blackjack or 1445 Designs Inc. please, visit www.blackjackholder.com.