Seattle Manufacturing Corporation Announces New Line of Carabiners
---
use if there is a picture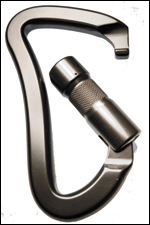 end picture
Ferndale, WA –Seattle Manufacturing Corporation announces its new line of carabiners- The CrossOver Series, available for retail sale starting in July of 2010.  The CrossOver Series carabiners are the ultimate carabiners for rescue, industrial, and vertical rope work professionals.  The carabiners feature a new ergonomic design and geometry making single handed opening and placement a breeze for an auto locking carabiner without compromising performance, strength or weight.  The CrossOver Series carabiners are the only aluminum carabiners meeting both the NFPA "G" Rating 1983 (2006) and ANSI Z359.1 (2007) strength requirements.  Available in two colors, Pewter and Tactical Black with three gate choices: the traditional Screw-Lock (non-ANSI), Dual-Lock, and Triple-Lock auto locking (meeting ANSI Z359.1 - 2007) and more than a 1" gate opening making the CrossOvers the new "go to" carabiner for industry professionals. 
use if there is a picture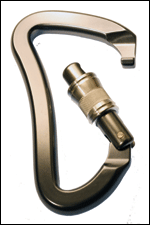 end picture
As with all SMC gear, the CrossOver carabiners also must pass the rigorous SMC standards at each point during their production. All the components in this carabiner are meticulously hand-finished after machining resulting in the smooth, free gate action that is the hallmark of all SMC carabiners.  Additionally, each carabiner is 100% hand-inspected for gate action and other functional characteristics before leaving our factory. 
Founded in 1967, the SMC brand is synonymous with impeccable product quality, technical expertise and the company's long-standing commitment to insuring the safety of people using gear made by SMC. For more information on SMC and the company's products visit their website (www.smcgear.net) or call toll free at 1-800-426-6251