Phenix Technology Firefighter Memorabilia Museum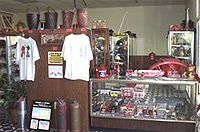 Ronny Coleman and Ray Russell, the founders of Phenix Technology, entered the career fire service in 1963. Both developed a strong interest in the history and traditions of this occupation. Both men started collecting fire service memorabilia a short time after entering the profession. After meeting in 1968 they started Phenix Technology and developed their first fire helmet. Between them they had amassed a collection of fire helmets, both foreign and domestic, numbering in the hundreds. These helmets were the basis for designing their new helmet. They took the best ideas of several helmets in the collection and came up with their contemporary line of "First Due Fire Helmets" which has been produced since 1969.
Over the years Ron and Ray have continued building this collection to include not only helmets, but also buckets, badges, nozzles, hand drawn fire apparatus, early fire equipment and a large collection of fire service toys. They also included fire service and management books in their collection amassing one of the largest fire department related libraries west of the Mississippi River.
When Phenix moved into their new building in 2001, it included a large room to display this collection and a second room to serve as a reference library. This forms the basis for the Phenix Technology Fire Museum. The museum is open to the public and includes many pieces of antique fire memorabilia.
There are 290 fire helmets dating back to 1780. Many of these helmets came from foreign countries, including one from Russia dating back to 1890. We also display over a thousand toy fire apparatus, many of them from foreign manufactures.
The museum is open during business hours (Monday - Friday 9am-4pm) and can also be opened by appointment.