Calif. city installs solar panels on fire department roof
The city of Marysville notes the installed solar systems are expected to generate more than 270,000 kilowatt hours of electricity annually
---
Lynzie Lowe
Appeal-Democrat, Marysville, Calif.
In an effort to decrease costs, the city of Marysville is now using solar panels to power facilities operated by first responders.
About 205 kilowatts of solar photovoltaic power have been installed on rooftops and in parking structures at three sites around the city including the City Hall and police department building, the fire station and the public works' yard.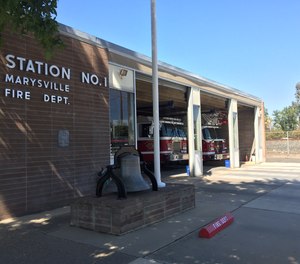 Installation of the infrastructure took eight months and cost $1,666,210, said Jim Bermudez, Community Development and Services director for the city of Marysville.
Last week, a ribbon-cutting and award ceremony took place to recognize the project, which is expected to generate $322,000 in energy savings within the first five years.
The idea of exploring the economical feasibility of alternative energy sources, particularly photovoltaic, as a means of reducing operating costs of the city government was first discussed by staff while setting up the city's 2013-2014 fiscal budget, Bermudez said.
"Since that time, staff has participated in many meetings intended to build an understanding of the energy market to be able to answer the feasibility question," Bermudez said.
Authorization for this solar panel project was approved by the City Council in 2016.
"Preliminary calculations indicated that the city's payback period for ground or roof mounted solar arrays would be approximately eight years," Bermudez said. "In other words, the expected savings from solar energy would pay off the initial capital costs of installation for eight years, after which the city would enjoy the financial benefits of energy savings."
The city of Marysville notes the installed solar systems are expected to generate more than 270,000 kilowatt hours of electricity annually, which is the equivalent of powering 23 homes for one year.
———
©2019 the Appeal-Democrat (Marysville, Calif.)
McClatchy-Tribune News Service

Request product info from top Fire Technology companies
Thank You!