DC firefighters shore collapsed Watergate parking garage
The three-story garage collapsed; a cadaver dog indicated there may be one dead
---
The Associated Press
WASHINGTON — District of Columbia Mayor Muriel Bowser says a cadaver dog made a possible hit at the site of a collapsed parking garage at the Watergate complex in Washington.
Bowser said Friday that rescuers are shifting from a search and rescue operation to a recovery operation. She says it will be a long process as firefighters work to shore up the site to search for a possible victim.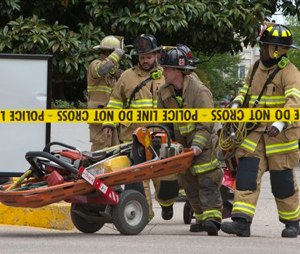 Fire department spokesman Timothy Wilson says three stories of the garage collapsed Friday morning. One person sustained a minor injury and was taken to a hospital. The area was under construction at the time.
Officials say all construction workers have been accounted for.
Much of the complex remains evacuated, including condominiums located near the collapse site.