Conn. FF suffers severe arm injury battling apartment fire
A member of the East Haven Fire Department was injured while working the scene of a fully involved unit of an apartment complex
---
By Rachel Engel
EAST HAVEN, Conn. — A firefighter was hospitalized and is in stable condition after suffering a severe injury to his arm while at the scene of an apartment fire.
The East Haven Fire Department responded to calls of a large structure fire at an apartment complex on Wednesday afternoon, the New Haven Register reported.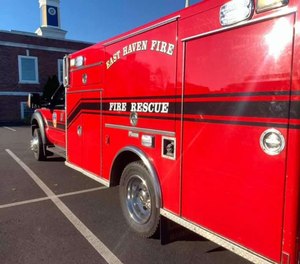 Officers on scene said the fire was fully involved on the first and second floors, creating extensive structural damage and causing several units to be evacuated.
During the response, a firefighter required transport to Yale New Haven Hospital for a severe arm injury. He is stable as of Wednesday evening.
The incident is under investigation.