NIOSH report: Pa. firefighter's death highlights need for spotters
The report attributed limited visibility and impaired hearing of the apparatus driver as factors that contributed to the fatal incident
---
By FireRescue1 Staff
WASHINGTON — A recent NIOSH report found that a volunteer firefighter was killed when a tanker backing into the fire station fatally struck him.
According to the report, the volunteer fire department had participated in a motorcycle benefit for a children's cancer organization and were using their apparatus to control traffic for the event.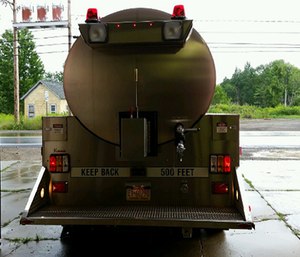 Tanker 72 returned to the station after the benefit and the driver was backing it into the bay when firefighter Donald Ishman walked behind the tanker approximately 30 feet away.
Another firefighter heard Ishman yelling at the driver and noticed that the right rear wheels were on his leg and he was down on the parking pad.
The second firefighter ran to get the attention of the driver, but by the time the driver stopped, the tanker had run completely over the left side of Ishman's body.
An ambulance immediately responded, but he was pronounced dead at the scene.
NIOSH highlighted the following contributing factors:
Unknown location of firefighter near backing apparatus
Limited visibility on right side of the apparatus
Physical mobility of the firefighter
Impaired hearing of the driver
The report also recommended the following:
Fire departments should ensure that all firefighters wear the appropriate personal protective clothing and equipment, including high-visibility clothing that meets the requirements of NFPA 1500 and NFPA 1971.
Fire departments should consider equipping fire apparatus and vehicles with rear-view cameras, object-sensing devices, or additional mirrors to assist drivers during backing operations.
Authorities having jurisdiction and fire department SOPs should consider including the role and responsibilities of the vehicle spotter along with the role and responsibilities of the apparatus driver/operator when a spotter is deployed.
The States should consider establishing minimum training requirements for firefighters.
NIOSH Report by Ed Praetorian on Scribd