Dallas Fire-Rescue receives body armor kits for paramedics
Each ballistic kit includes bullet-proof vests and tactical helmets
---
DALLAS — A month after the deadly ambush shooting of police officers, Dallas Fire-Rescue now has access to body armor kits that include vests and helmets. 
The ballistic kits, designed to protect the first responders against rounds from high-powered rifles, include bullet-proof vests with an added one-inch thick armor plate.
"It's much more protection than anything we had before," Dallas-Fire Rescue Lieutenant Jim McDade told KHOU.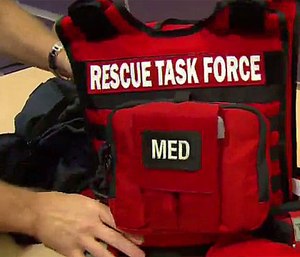 Each kit also includes a tactical helmet, like the ones used by the Dallas Police Department SWAT teams. 
DFR is modifying its active-shooter policy in collaboration with the police department.  
McDade, an EMS paramedic, says he placed the order for the new body armor kits on July 7, the same day Micah Johnson ambushed and killed five police officers in downtown Dallas. 
He adds that the kits will be used after police have neutralized an active-shooter situation and determined it's safe for EMS personnel to enter. 
"There are injured people, we put the gear on, we go in, we get the people, we bring them out," McDade said.