FDNY firefighter returns to work after almost losing arm
Sean O'Rourke returned to work 15 months after nearly having his arm amputated when an I-beam crushed the fire truck he was driving
---
By FireRescue1 Staff
NEW YORK — An FDNY firefighter returned to work 15 months after almost losing his arm in a fire truck crash.
ABC7 reported that Sean O'Rourke was on his way back to the station in a fire truck in Aug. 2016 when he turned under an elevated subway.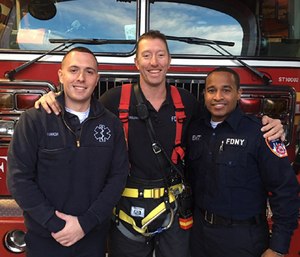 "The I-beam hits this," O'Rourke said, pointing to the side view mirrors. "This kind of got torn off, slid right up into my arm." Pointing to his shoulder, he said, "That's where it sliced into my arm into the bicep and partially amputated my shoulder."
FDNY EMTs rushed to treat O'Rourke and transported him to the hospital.
"We wanted to make sure the bleeding was controlled," EMT Cory Christian said. "So we stuffed it with a lot of dressing. Lots of gauze. Wrapped it real tight toward the body to keep and maintain that pressure."
Doctors reattached O'Rourke's shoulder and arm and treated him for other injuries caused by the crash.
"I had no bone. No nerve. No vascular damage," O'Rourke said. "I was determined to not give in and not let this injury not let me back."
O'Rourke underwent intense physical therapy a month after his injury, and is now back to work, driving tower ladder trucks. He thanked his EMTs, doctors, physical therapists, family and friends for helping him get through such a difficult time.
"I have a lot to be thankful for this year," he said.