Man charged with killing Calif. fire captain dies in custody
Thomas Kim, who was charged with shooting Capt. David Rosa to death, died at a hospital of an undisclosed condition
---
Associated Press
LONG BEACH, Calif. — A 77-year-old man charged with shooting to death a fire captain at a Southern California senior housing facility has died in custody from an existing medical condition, authorities said Monday.
Thomas Kim died shortly before 3:30 a.m. Sunday at a hospital, said Nicole Nishida, a spokeswoman for the Los Angeles County Sheriff's Department.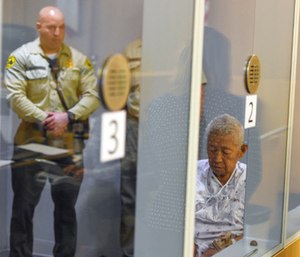 The nature of his medical condition wasn't disclosed but he attended court in a wheelchair and his case had been delayed because of medical issues. Neighbors have told KCAL-TV that Kim had been undergoing chemotherapy for cancer and also had a kidney disorder.
Kim was charged with murder for the death of Capt. David Rosa on June 25 at Covenant Manor, an 11-story senior apartment complex.
It is with deep sadness and tremendous grief that we announce that Captain David Rosa has died from injuries sustained from a gunshot wound he sustained at an emergency incident. Capt. Rosa is a 17 year veteran of our department and is assigned to Station 10. pic.twitter.com/np03fecLQb

— Long Beach Fire (CA) (@lbfd) June 25, 2018
Prosecutors alleged that Kim had set off a firebomb in an effort to kill his upstairs neighbor, with whom he was feuding. Rosa, 45, was shot when he and other firefighters responded to reports of the blast. Kim also was charged with wounding another firefighter and another building resident.
Rosa, a father of two, was a 17-year veteran of the Fire Department.
"Although we're devastated this man will never stand trial for the murder that he committed, our focus remains on protecting the Rosa family and the memory of the many honorable and loving contributions that Capt. Rosa made to his family and the community," a Fire Department statement said.