Maine landlord charged in deadly fire after Halloween party
Investigators say the fire was accidental, but that the house didn't have functioning smoke detectors and they believed he operated the property as an illegal boarding house
---
The Associated Press
PORTLAND, Maine — The owner of an apartment house where six people died in a fire that started hours after a Halloween party has been indicted on six counts of manslaughter, authorities announced on Friday.
The charges against Gregory Nisbet stemming from the Nov. 1 fire, the deadliest in Maine in 40 years, were announced by Cumberland County District Attorney Stephanie Anderson's office and Attorney General Janet Mills. Plea negotiations broke down days before a grand jury indicted Nisbet on the manslaughter charges and four criminal violations of the life safety code.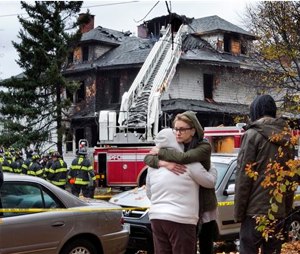 Defense lawyer Matthew Nichols said Nisbet plans to plead not guilty. He said the facts of the case don't support a manslaughter conviction, "not by a longshot."
Investigators found the cause of the fire to be accidental. They also found that the house didn't have functioning smoke detectors and said they believed Nisbet operated the property as an illegal boarding house.
A lawsuit against Nisbet alleged an emergency exit was impassable.
The families of at least four of the six people who died have sued Nisbet. The fire killed Steven Summers, 29, of Rockland; Maelisha Jackson, 26, of Topsham; and Chris Conlee, 25, David Bragdon Jr., 27, Ashley Thomas, 29, and Nicole Finlay, 26, all of Portland.