Philadelphia Fire Department Unveils Driver Training Simulator Lab
---
Earns Federal Recognition as Example to Other Departments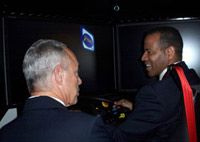 The Philadelphia Fire Department hosted an open house of its new driving simulator lab, and four FAAC emergency response simulators were the guests of honor.
FAAC Incorporated recently delivered three ER-1500 and one PS-1500 driver trainer simulators at the Philadelphia Fire Department training academy to assist the department in creating a powerful driver training program.
The open house brought in dignitaries and elected officials from the state of Pennsylvania, along with a fire service official from President Barack Obama's staff.
U.S. Fire Administrator Kelvin Cochran told the audience that the driver training simulator lab will result in a safer, more cautious apparatus driver that will retain the desire to arrive on scene and make a difference, but realize he or she has to arrive safely in order to make lend assistance.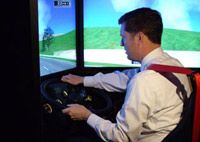 "This driver simulation training will temper that spirit of competition down to a level of safety and precaution, where we will still get there fast enough to make a difference but the firefighters will be blessed enough to get back to the fire station and go back to their families at the end of their shift," Cochran said. "For the predictable contributors to line of duty death and debilitating injuries associated with emergency response this driver simulation training will have a major impact on reducing those numbers throughout the region served by the Philadelphia Fire dept, giving our firefighters an opportunity, in the driving simulation lab, to help improve tactics and provide actual training in real-life experiences."
Cochran lauded the commitment to driver training that Philadelphia Fire Department officials showed in their determination to purchase the powerful simulator training system.
"Your example today, in your public safety leadership should resonate across the country and change the emergency response culture of our profession," he said.
In addition to Cochran, Philadelphia Congresswoman Allyson Schwartz and Congressman Patrick Murphy attended the open house and each took a turn driving simulation reconstructions of actual collisions that occurred in the area.
It is important for elected leaders and those who control federal grant funding to see the power and importance of driver training simulators, said Philadelphia Fire Department Battalion Chief Henry Costo.
Costo, who spearheaded the department's effort to bring the driver simulators into the training academy, said the event showcased how federal grant funding can lead to real improvements in safety on the road.
"In a perfect world we would be able to take people out on the street and drive large vehicles every day and train, but we don't live in a perfect world," he said. "That being the case there is a benefit to having them behind the wheel (of the simulator), so to speak, because you are teaching them the same principles, whether it be intersection clearance, scanning, or any defensive driving principle.
"The simulator offers an opportunity to get drivers to re-focus on safe driving principles and I've always felt that way and I think the statistics will bear that out. I don't think our experience will be any different."
Costo said he plans to create a pilot program for the driver training simulator lab and continue to get his instructor group acclimated to using the simulator as an instructional tool.
FAAC officials were on hand to support the open house and continue to support the fire service.
"Really, our presence here is just another facet of our Customer for Life philosophy," said Director of Commercial Business Development David Bouwkamp. "Most of our relationships with our customers are after the sale, and this open house is an important milestone for the Philadelphia Fire Department. We wanted to be here to support their driver training initiative and to help in any way we can.
Learn more at www.FAAC.com.