3 NC FFs injured in engine rollover
The engine was en route to an emergency call when it swerved to avoid another vehicle and rolled over
---
Paul B. Johnson
The High Point Enterprise, N.C.
GUILFORD COUNTY, N.C. — Three firefighters from a Guilford County fire department were injured Tuesday evening when their fire engine wrecked along Interstate 85 Business.
About 6:15 p.m., a Pinecroft Sedgefield Fire Department fire truck on the way to answer an emergency call was merging from the I-85 Business off-ramp onto Interstate 73 near Greensboro when a vehicle ahead of it slowed abruptly, N.C. State Highway Patrol Master Trooper Brandon Baker said. The fire truck's driver swerved to avoid hitting the vehicle, causing the fire truck to overturn.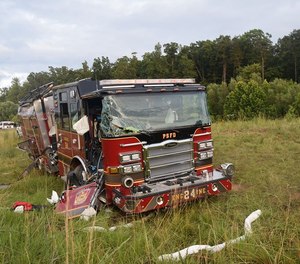 The fire truck rolled several times and traveled off the roadway to the left before coming to a stop on its side, Baker told The High Point Enterprise.
Three firefighters were injured and taken to a local hospital by Guilford County paramedics. All three firefighters were in stable condition, according to county emergency services officials.
The firefighters don't appear to have life-threatening injuries, Baker said Wednesday afternoon.
No charges were filed in the wreck, the trooper said.
The Pinecroft Sedgefield Fire Department is in southwest Guilford County and serves a 52-square-mile district that includes Jamestown. The department operates out of five fire stations and employs 50 people.
McClatchy-Tribune News Service