Pa. volunteer firefighter laid to rest in emotional ceremony
Michelle Sowga, with her three children at her side, eulogized her husband, Erik Sowga
---
By Bill O'Boyle
The Times-Leader (Wilkes-Barre, Pa.)
SHAVERTOWN, Pa. — On a bright Monday morning the Sowga family endured its darkest hour.
Michelle Sowga, with her three children at her side, eulogized her husband, Erik, 43, who passed away unexpectedly Wednesday at Wilkes-Barre General Hospital.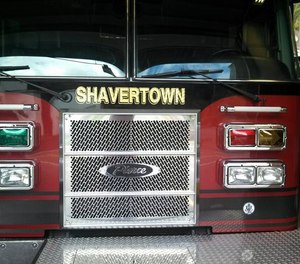 Erik Sowga, a longtime volunteer firefighter, corrections employee and U.S. Navy veteran, made headlines two years ago for the heroic rescue of a woman from a burning home.
He was remembered at Monday's funeral service, held in the same church where he and Michelle were married the Trucksville United Methodist Church.
Friends and family packed "The Church on the Hill," wiping away tears as Michelle talked about Erik and the life they had together.
"I lost my best friend," she said. "He made me whole. He was my rock."
As the Sowga children — Mikayla, Austin and Joseph — stood behind their mom, Michelle continued her heartfelt eulogy.
"Continue to make him proud," Michelle said to her children.
The service was filled with emotion from start to finish. Two of Erik's best friends —Shavertown Volunteer Fire Department Chief Gary Beisel and Paul Mooney of the State Correctional Institute at Dallas — gave moving eulogies that helped tell the story of who Sowga was and how he valued family, friends and community.
Sowga worked at SCI-Dallas, first as a guard, then moving up the ranks to the Facility Maintenance Manager. He also served the Shavertown Volunteer Fire Department for 29 years and as Assistant Fire Chief for 16 of those years.
But it was Michelle who offered the most moving comments. She told of how she and Erik met in junior high school and briefly dated. She said they were always close friends and kept in touch when Erik entered the U.S. Navy and Michelle went off to college.
"We always kept in touch," she said. "We wrote letters back and forth."
Michelle told of one day running into Erik.
"He came down from a ladder and we hugged," she said. "I still remember the feeling I got from that hug."
Michelle said her family returned from a trip to Paris and Erik was waiting on her front porch.
"So was the guy I was dating at the time," she said, drawing laughter. "I don't know whatever happened to Bob."
Michelle said Erik was fixture at her house and the two began dating and eventually got married.
"I see him in our children," she said fighting back tears. "We always knew we loved each other."
Michelle said she never realized how much Erik impacted so many people.
"He influenced so many people," she said. "We all will keep telling Erik stories. He was my everything."
Another emotional moment came when Mary Lynch and Paul Reinert sang "You Are My Light," written by Lynch's late husband, Joey. Mary noted that she and Joey sang at the Sowga wedding.
The song's lyrics included:
"Your are my light,
You fill my night,
You make wrong right,
You are my light."
Chief Beisel said Sowga was his right arm — he called Sowga "a proud husband and father" who loved the fire department.
Turning to the firefighters in attendance, Beisel said, "Erik understood what you do — the sacrifices you make every day to serve your community. He wanted to assure that you always returned home safely to your families."
Beisel talked about the Medal of Honor that was bestowed on Sowga and four other firefighters from the Shavertown Volunteer Fire Department. For their efforts, they received the presented with the Medal of Valor — the highest decoration awarded for bravery to public safety officers, Beisel said.
On July 4, 2017, Sowga and his fellow firefighters rescued a woman from her burning home in Dallas.
At the time, Sowga said, "Bottom line, I'm glad we were able to save the lady. It's an everyday job for us."
Beisel said Sowga was a friend, a brother — "a good man." And then he said, "All of us at Station 251 say rest in peace. We will take it from here."
Mooney said Sowga loved family above all us. He then said that Sowga had several other families — his church family, baseball, soccer, Boy Scouts, work and Navy families as well.
"He would joke that he served five years in the Navy and never stepped on a ship," Mooney said. "How many sailors can say that?"
Pastor Jay E. Jones told the congregation to remember Erik and tell those stories.
"This is a loss for all of us — of courage, of love," he said. "We all share a common grief. Remembers, faith, love and hope last forever."
Reach Bill O'Boyle at 570-991-6118 or on Twitter @TLBillOBoyle.
———
©2019 The Times Leader (Wilkes-Barre, Pa.)
McClatchy-Tribune News Service