Multiple Pa. firefighters hurt while battling warehouse blaze
According to the Hope Fire Company, a crew from Rescue 57 was working on an interior wall when there was a collapse, injuring at least two firefighters
---
By Jessica McAllister
Centre Daily Times
BRADFORD TOWNSHIP, Pa. — At least two firefighters were injured early Thursday morning during a battle with a fully-involved warehouse in Bradford Township, Clearfield County.
Numerous fire companies responded to the building fire at Walker Lumber in Bradford Township late Wednesday night. According to a Facebook post from Hope Fire Company, a crew from Rescue 57 was working on an interior wall when there was a collapse, injuring at least two firefighters. A firefighter from Philipsburg was trapped in the rubble and a mayday was declared, according to the fire company.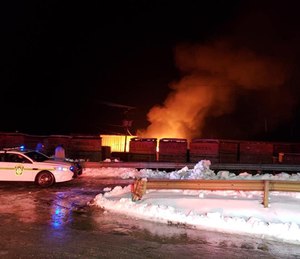 Personnel operating on scene used hydraulic rescue tools to free the trapped firefighter, who was transported by ambulance to Mount Nittany Medical Center for treatment of his injuries.
The other firefighter was transported for an arm injury, according to a Facebook post from Columbia Fire Company.
The injured Philipsburg firefighter was released from the hospital early Thursday morning and is recovering at home, Hope Fire Company said.
Check back for updates on this story.
Copyright 2019 Centre Daily Times
McClatchy-Tribune News Service